The Orion G10 Starshoot Mono camera is the monochrome version of the company's G10 camera, providing significant improvements in sensitivity as well as versatility. When compared to Orion's previous monochrome CMOS camera (the G16) the G10 Mono features two major improvements over the G16, including a 14-bit sensor (the Sony IMX 492), and over 85% Q.E. (quantum efficiency), which in the G16 topped out around 60%).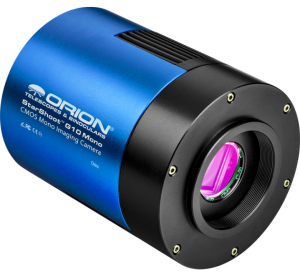 The difference between the older 12-bit cameras and the 14-bit Orion G10 Starshoot Mono camera comes down to a massive increase in dynamic range. Instead of 4096 'steps' between pure black and pure white, the 14-bit G10 Mono has over 16,000 steps, translating to more subtle variations in faint nebulae, and a much greater dynamic range between the brightest core of a galaxy and the faintest outlying wisps. And with >85% Q.E., this camera is much more sensitive to light, allowing both shorter exposures, as well as more faint details visible in all of your images.
The Sony IMX 492 chip is a 4/3 format back illuminated CMOS chip, with dimensions of 19.1mm x 13.0mm (23.1mm diagonal). The G10 Mono features a full well capacity of 66,000 e- in LCG mode, but where the sensor really shines is when you flip into HCG mode to significantly reduce the read noise.
In LCG mode, the read noise ranges from 7.53e- down to 6.42e-, depending on the gain setting used. But flip the switch for HCG (available at any gain setting) and you suddenly reduce the read noise down to a range of 1.77e- to  1.42e-. And in HCG mode, the dynamic range at zero gain is just over 12 stops, a loss of only one stop from LCG mode. In fact, due to the extreme sensitivity of this chip, it is recommended to keep the camera in HCG mode and a gain of 0 or 1 for the best full well capacity and lowest noise characteristics. Image 2 shows sensor details in 14-bit HCG mode,
Being a monochrome chip has major advantages over a one-shot-color camera. While the Orion G10 Starshoot Mono camera is definitely the most convenient for getting a full color image without a lot of work, the G10 Mono provides much more sensitivity because all of the pixels are seeing all of the incoming light, instead of light being diverted to specific pixels below the color Bayer Matrix.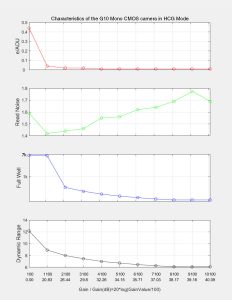 In addition to much higher sensitivity, the versatility of a mono camera provides a number of opportunities. You can combine this camera with the Nautilus Filter Wheel, and the LRGB filter set to get a true color broadband image as a result. Or switch to more specialized narrowband filters such as Ha, O-III, and SII, and you can get spectacular narrowband ultra-high contrast images of nebulae even when the moon is out or you are imaging in heavily light polluted areas.
Another advantage of this Sony IMX 492 chip is the way it handles binning. All of Orion's previous cameras have defaulted to binning 1×1 native pixels. The default mode that Orion suggests for deep-sky imaging with the G10 Mono is 4128×2808, which equates to a hardware binned 4.63 micron sized pixel. But you can actually 'hardware un-bin' those pixels in the included StarShootI software to provide a small 2.3 micron size pixel, and a large 8184 x 5616 fully unlocked 45mp full resolution mode.
Note that unbinning the 4.63 micron size hardware binned pixel comes with some drawbacks. The bit depth will decrease from 14-bit to 12-bit per pixel, and the full well capacity will also be reduced, meaning less dynamic range in your images. For most/all deep-sky imaging, Orion recommends the 4128×2808 mode for the best results. But if you want the highest resolution for planetary, lunar, and perhaps some deep-sky imaging at very short focal lengths, the unbinned mode is available when you wish to experiment.
The Orion G10 Starshoot Mono camera features a two-stage regulated thermo-electric cooler with fan, capable of reaching ~40° C below ambient temperature. A dew heater built into the front window protects against dew forming at such low temperatures. The USB 3.0 interface provides exceptionally fast frame rates and download speeds. Power for the camera electronics comes from the USB 3.0 port, and the TE cooler is powered by an included AC adapter, though any 12v 3amp external battery source will work as well.
A standard t-thread is cut into the front opening of the camera, and with an included 2″ nozzle, you can attach the G10 camera to most telescope configurations, including coma correctors, flatteners, and off-axis guiders. With a built in two-port USB 2.0 hub, your guide camera and other USB accessories can be wired directly to the G10, which means you'll only have the one USB cable running to your laptop, eliminating many extraneous wires draping from the telescope to the computer.
Compatible with Win 7/8/10, the camera includes a hard case, along with free control and image acquisition software. The StarShoot G10 is ASCOM compatible, meaning you can use most dedicated astro-imaging software on the market to unlock the full potential of the new Orion StarShoot G10 Mono CMOS camera.
The G10 Mono specs include:
– Imaging sensor: Sony IMX492
– Imaging sensor size: 23.1mm diagonal
– Pixel array: 4128 x 2808 (11,591,424 total)
– Pixel size: 4.63 x 4.63
– Imaging chip: Monochrome
– Autoguider capability: No
– Exposure range: 0.1ms – 1000s
– A/D conversion: 14 bit
– Thermoelectric cooling: Yes
– IR filter: No
– Mounting: 2″ nozzle or t-thread
– USB connection: High-speed USB 3.0
– Software compatibility: Windows 7/8/10
– Full well capacity: 66000e-
– Read noise (RMS): 1.59-1.42e- @HCG
– Gain: Adjustable
– Binning: 1×1, 2×2, 3×3
– Max cooling: -35C from ambient
– Backfocus distance (from T-threads): 17.50mm
– Weight (oz.): 19
– Warranty: One year
You can learn more about the Orion G10 Starshoot Mono camera here.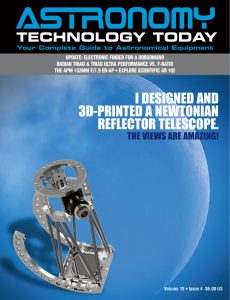 And to make it easier for you to get the most extensive news, articles and reviews that are only available in the magazine pages of Astronomy Technology Today, we are offering a 1 year magazine subscription for only $6! Or, for an even better deal, we are offering 2 years for only $9. Click here to get these deals which only will be available for a very limited time. You can also check out a free sample issue here.