The Orion Linear BinoViewer ($499.99US) is so named because it employs a sliding linear housing for adjusting the interpupillary distance (IPD) instead of the traditional folding body.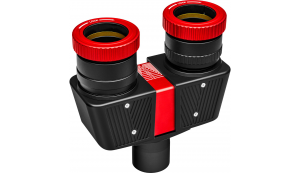 That matters, because the folding types are more prone to collimation problems, whereby the two barrels of the binoviewer become misaligned, causing double images and eye strain. With the Premium Linear BinoViewer, you just slide the two halves of the housing inward or outward to set the IPD – from 58 mm to 74 mm – and there's a handy IPD scale laser engraved on the housing so you'll know exactly where to set it the next time for your (or anyone's) eyes.
The eyepiece holders of the Premium Linear BinoViewer accept any two identical 1.25-inch telescope eyepieces (sold separately) and have convenient twist-tight holding collars that are self-centering – no little thumbscrews to mess with and no chance of mis-collimation due to eyepiece offset in the barrels. The right eye side is equipped with a helical diopter adjustment.
The binoviewer's tapered 1.25-inch barrel minimizes the possibility of accidental fallout, which is good, because at 1.5 pounds (0.7 kilograms), this viewer adds a hefty load onto the diagonal or instrument itself. The barrel is threaded for use of 1.25-inch filters.
Another big advantage of the Orion Premium Linear BinoViewer is that it does not utilize prisms in its optical design – just mirrors and lenses – thereby eliminating optical aberrations associated with prisms, while improving contrast. A knife-edge mirror is employed for light path splitting, rather than a prism used in traditional binoviewers. The dielectric-coated mirror, which boasts 99-percent reflectivity, minimizes differences in brightness, contrast, and color tone between the left and right images compared to prism-containing binoviewers. And four of the internal lenses are made from lanthanum glass, which effectively suppresses chromatic aberration.
Other advantages of the Orion Linear BinoViewer include:
-The BinoViewer can be used with any type of telescope, even reflectors.
– The BinoViewer requires no additional backfocus or in-travel. It does not alter the magnification of the optical system. And you won't need a Barlow lens to reach focus as with some other binoviewers.
– Its built-in image-erecting system means you can use the Premium Linear BinoViewer without a diagonal, if desired, and get an upright image.
– Low-power viewing is both possible and pleasurable with the Premium Linear BinoViewer, which is not the case with many binoviewers, since you don't need a Barlow lens with ours to achieve focus.
The Orion Linear BinoViewer comes complete with a roomy, waterproof hard-side carrying case for protection and convenient transport, and there's enough room inside to also allow storage of a pair of 1.25-inch eyepieces and a diagonal.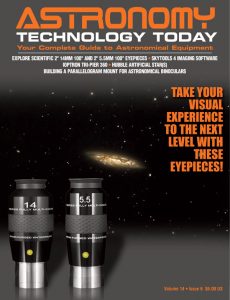 And to make it easier for you to get the most extensive telescope and amateur astronomy related news, articles and reviews that are only available in the magazine pages of Astronomy Technology Today, we are offering a 1 year subscription for only $6! Or, for an even better deal, we are offering 2 years for only $9. Click here to get these deals which only will be available for a very limited time. You can also check out a free sample issue here.