"Enter the Pegasus Astro Ultimate Powerbox V2 and cable tangle and complexity have been broken like a wild Mustang."
I would not date Medusa. Not because she's got a bad attitude or anything (been there, done that), but … too many cables. I hate cables. Cables are problems waiting to happen and they look bad. Who wants to look bad, even if it's in the dark?
Enter the Pegasus Astro Ultimate Powerbox V2 and cable tangle and complexity have been broken like a wild Mustang. Sure, there are still cables, but man has it gotten more organized and easier.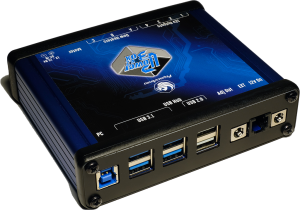 So, what the heck is this wondrous box of electronic magic? Well, first off, it's a powered USB 3.1 hub, with 4 USB 3.1 and 2 USB 2.0 ports. All ports can be turned off/on via software, too. Whoo-hoo!
But wait, there's more!
The Pegasus Astro Ultimate Powerbox V2 is also a power hub, with 4 x 12-volt DC power outlets, which can provide up to 7amps per. It has a built-in voltmeter and amp meter to not only monitor, but to cut off input over 14.5v, thus protecting your delicate (and valuable) equipment.
There are also three RCA dew heater outputs with pulse width modulated variable (3 to 12V) regulated power at 3 amps, for, you know, dew heaters/fans/flat panels. And one 12V always-on output, in case you want to slap on a mini PC, a bracket for which one can get optionally.
But wait, wait, there's even more!
Here was the kicker for me: an embedded stepper motor controller! Yup, it runs my Rigel focus motors like a champ (though, at first, the original Pegasus cable schematics were incorrect, but not only did Evans from Pegasus Astro work with me and Leon from Rigel, Pegasus made a couple cables and sent them my way as well).
Thus, the UPBV2 replaced my industrial strength USB hub, my Anderson Powerpole power hub, AND my focus controller, all in a tiny and sleek box that is lighter and smaller by far.
Oh, and there's a small little weather station that measures temperature and relative humidity that comes with it as well. You know, just to keep track of things.
But wait, wait, wait, there's even more, more, more!
The software that controls the box is fantastically detailed as well as totally useful and plenty customizable. There's a power panel with full control over all the power ports, one for the USB ports. The focus panel gives control over step movement, backlash compensation, current position, etc.
There's a power graph to see how much juice you're suckin' up over the night  – particularly useful for those of us strictly mobile and tied to our batteries, a panel to show a graph of temperature/dewpoint and relative humidity, and there's a peripheral panel that goes with a future-proof peripheral port .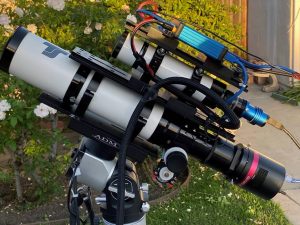 There are timers to shutdown output, memory persistence for outputs on startup, reverse polarity protection, a watchdog feature that resets the UPBV2 in the unlikely event of a controller freeze (great for you remote observatory owners), and, as stated earlier: is small and compact: 12cm x 10cm x 3cm (4.72 inch x 4.06 inch x 1.2 inch). Weight is 400 grams (14.1 ounces).
It comes with 4 x Power DC 2.1 to 2.1 male cables, as well as a DC cable to cigarette lighter with a 10A fuse, and a Type B USB 3.0 cable. I mixed and matched the cables to fit my own needs, as it's VERY universal that way. With a rockin' ASCOM 6 support, it's also supported by INDI and INDIGO, so you're covered any-which-way you want it.
Oh, and great customer support. We're all used to a global economy, things from China being shipped to Australia, and things from Germany being shipped to the USA, but the people at Pegasus Astro – based in Greece – get back to you so quickly, it's as if they're next-door, and they go the extra mile (as mentioned above about the cables). They REALLY want their products to work well and their customers to be happy with them.
So, if you want to streamline your cable clutter (see Image 2), take a gander at the Ultimate Powerbox V2 by Pegasus Astro. You'll ask: "Where have you been all my life!"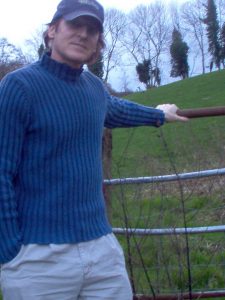 Mark Zaslove is a two-time Emmy Award winner and recipient of the coveted Humanitas Prize. Mark is a born-again astro noobie, who once had an Optical Craftsman scope as a kid, and is now recapturing his youthful enthusiasm (with a digital twist) and having a lovely time doing it. And if you want to read more articles by Mark and get the most extensive telescope and amateur astronomy related news, articles and reviews that are only available in the magazine pages of Astronomy Technology Today, we are offering a 1 year subscription for only $6! Or, for an even better deal, we are offering 2 years for only $9. Click here to get these deals which only will be available for a very limited time. You can also check out a free sample issue here.