The Player One Uranus-C PRO camera is a solar and planetary imaging camera which offers one of the first cooled cameras utilizing the Sony IMX585 1/1.2″ CMOS color sensor. The 2.9um pixel size accommodates a well depth of 38.8Ke with a total of 8.3MP (the resolution is 3856*2180), and the diagonal is 12.85mm.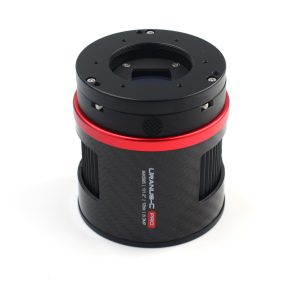 As the Player One team notes, "The Uranus-C Pro cooled camera uses the same design as our Ares cooled series with a round body and a classic red and black color scheme that utilizes carbon fiber to keep the weight down. We also integrated front and rear sensor tilter plates and an anti-dew PCB board. This series of designs makes the camera not only light and cool, but also functional."
When shooting deep sky objects, the sensor tilt plate can be used to adjust the sensor tilt angle to make the stars at the corners more rounded. The Player One Uranus-C PRO camera uses a 2 Stage TEC cooling unit which is offered in an improved the structure design to reject the heat back to C camera chamber allowing the camera Delta-T to reach 35-40 degree Celsius below ambient. When the camera is connected to the USB3.0 interface and full-resolution preview is used, it can reach 47FPS under RAW8 mode (10bit ADC).
The camera can be connected to a telescope with a 1.25″ T-Mount or by a Barlow lens between the camera and a telescope to extend the focal length. You can use the ST4 guide cable to connect the camera and the auto guide port of the equatorial mount to do guiding.
The Player One Uranus-C PRO camera utilizes a DDR3 cache that has been increased to 512MB which helps stabilize and secure data transmission and effectively helps avoid frame dropping as well as greatly reducing read noise. With the DDR3 cache, the camera does not require high computing demands and still offers excellent performance. The camera also offers DPS (Dead Pixel Suppression) technology, where dead pixels, including hot pixels and cold pixels of the image, are taken away.
The Player One Uranus-C PRO camera specifications include:
– Sensor: SONY Color IMX585 1/1.2″ CMOS
– Diagonal: 12.85mm
– Total Pixels: 8.3 Mega Pixels
– Max Resolution: 3856×2180
– Pixel Size: 2.9μm
– Chip Size: 11.2mm×6.3mm
– Frame Rate: 47FPS (10bit)
– Bayer Matrix: RGGB
– Shutter: Rolling shutter
– Exposure Range: 32μs-2000s
– Readout Noise: 6.5-0.7e
– QE Peak: ≈91%
– Full Well: 12k e
– ADC: 12 bit
– Data Port: USB3.0/USB2.0
– Adapter: 1.25″/M42X0.75
– Back Focal Length: 17.5mm
– Protective Window: D21*1.1MM High Quality AR Plus (Anti Reflection) Multi-Layer Coating
– Diameter: 78mm
– Weight: 420g
You can learn more about the Player One Uranus-C PRO camera here.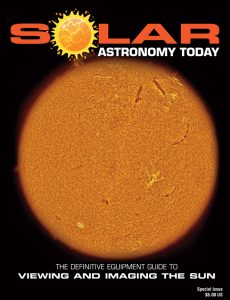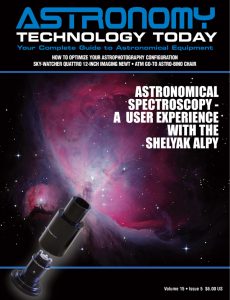 The Sun is more active than it's been in years and if that's not enough, we have the Annular Solar Eclipse on October 14, 2023 and the Total Solar Eclipse on April 8, 2024! If you'd like to learn more about the technology behind solar observing, solar imaging and more, you can check out our free publication, "The Definitive Guide to Viewing and Imaging the Sun". You don't have to sign up or provide any information, simply click here and enjoy reading!
And to make it easier for you to get the most extensive news, articles and reviews that are only available in the magazine pages of Astronomy Technology Today, we are offering a 1-year magazine subscription for only $6! Or, for an even better deal, we are offering 2 years for only $9. Click here to get these deals which only will be available for a very limited time. You can also check out a free sample issue here.