The Polar Scope Align app for iOS was designed to make polar alignment easier and provide an alternative method of aligning with polar scopes to improve their precision. The app supports almost every polar scope used in the field including ones from iOptron, Astro-Physics, Takahashi, Orion, Celestron, Meade, Vixen, AstroTrac, Losmandy, Kenko, Avalon, even early 80's designs like the Tuthill, or finders like the Telrad.
Polar Scope Align (PS Align) Version 5.6 has brought a number of new features, many focusing on the Xasteria Weather module (configurable display, extended 7Timer forecasting to 8 days, added optional data fields, etc.). The biggest news out of the release is the new ""Hop Align" without Polaris.
For a little background on the Polar Scope Align app, as explained by the developer of the app, Greek computer scientist and physicist Dimitrios Kechagias, "While the Polar Scope Align app was made for my use to allow me to compensate for the centering error of my polar scope, it was released for the app store when I noticed it was actually more accurate than many other apps available, which either had miscalculations or were not calculating important factors like atmospheric refraction."
He continued, "As users appreciated the core functionality, I got numerous requests to support more polar scope types and add more features. I am pleased to say I have satisfied almost all of the requests with support of over 18 different reticles covering various types of polar scopes and have added features to assist in any polar alignment situation. The Pro version goes beyond polar-alignment, with weather forecasts, lunar calendars, astro calculators, DSO database and more. So apart from the most accurate polar alignment app, it is now the most complete in scope support and most feature-filled."
The functionality for polar alignment with all those polar scopes is included in the free version. But there are also the Pro versions which add tools for astrophotography sessions from weather and bubble level to calculators and a Deep Space Object database. As Kechagias notes, "The latter is not actually a very well-known feature of the app, as it is not very related to polar alignment, but it is probably the feature I use the most in an astrophotography session."
As mentioned earlier, the biggest aspect of the Version 5.6 release is the "Hop Align" feature. As Kechagias explains, "Polar Scope Align Pro's Daytime Alignment tool was originally intended to be enough to track the Sun during the eclipse I was going to (worked great), but many are using it at night when they can't use their polar scope (examples are obstructed Polaris, not dark enough skies for October in the S. Hemisphere, living near the equator), and having to deal with how unreliable phone digital compasses can be, especially near metal, etc. So the latest version of PS Align Pro, includes a new tool called "Laser/Hop Align", which uses a star that you can see in order to calibrate your digital compass before you use it to "hop" to the Celestial Pole. The "Laser" in the name is because it also works well for people who use a laser to align to Polaris (e.g. MSM users) – you can make the final correction to the Celestial Pole from there. The way it works is you first select a star that you can see and find with your polar scope (or laser) and that preferably is not too far from the pole star. The app will recommend a few stars, but you can select another if you wish."
He continued, "Then, with the phone strapped on your mount, pointing roughly (accuracy not important as long as it is secure throughout the alignment) to where the polar scope does, you center the calibration star in the polar scope (the app will try to guide you to it – might not be precise at this point). Once you have it centered, you hit calibrate and the app guides you to the celestial pole with increased precision."
For those with Apple Watches, the app is also available in a Pro Watch version that has all the features of Polar Scope Align Pro, with the addition of an Apple Watch app that offers:
-Graphic & Text display of polar alignment.
-Weather view.
-Bubble level (good for placing the phone on your tripod and looking at your watch while adjusting the legs).
-Day alignment.
-Moon phase/altitude.
-Moon/Sun rise/set/twilight end times.
You can learn more about the app and the latest version here.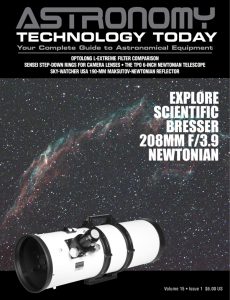 And to make it easier for you to get the most extensive news, articles and reviews that are only available in the magazine pages of Astronomy Technology Today, we are offering a 1 year magazine subscription for only $6! Or, for an even better deal, we are offering 2 years for only $9. Click here to get these deals which only will be available for a very limited time. You can also check out a free sample issue here.