Back in 2010 Gary Leonard Cameron published his PhD dissertation titled "Public Skies: Telescopes and the Popularization of Astronomy in the Twentieth Century" at Iowa State University. While typically most PhD Dissertations wouldn't be the subject of an astronomy products news website, when we came across the document we were amazed at the detailed history provided and how the document is something that is of interest and actually is important for understanding the hobby of amateur astronomy.
Cameron's Popularization of Astronomy dissertation is 342 pages in PDF format including citations, the document offers a wide-ranging look into how amateur astronomy evolved into what we enjoy today. Surprisingly easy to read for a document meant as a dissertation, the publication moves from the evolution of the amateur astronomy hobby from the 1900's through recent times.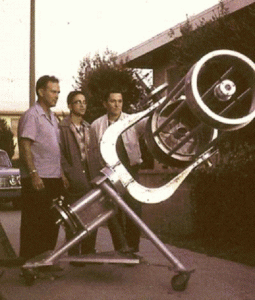 As Cameron notes in his Forward and Acknowledgements, "My first telescope was a Christmas present in 1974: an imported 2.4-inch refracting telescope. Within a few years, I became an active member (the youngest at the time, I believe – age 14) of the Des Moines Astronomical Society. I never lost my interests in astronomy, but there has been a certain 'evolution' in them. I took astronomical observing fairly seriously from an early age: I still have a number of sketch drawings of the moon, planets, nebulae, and galaxies as seen through the assortment of telescopes I've owned over the years.
He continued, "I was a frequent attendee of amateur astronomy conventions held all over the United States, and got to know a number of leaders in the American amateur astronomical community, as well as commercial telescope manufacturers, vending their wares in the convention exhibit halls. I even participated in the hobby of amateur telescope making, and produced a number of good instruments. Thus, the subject of this dissertation, the role of telescopes in the popularization of astronomy, is very much something I personally experienced."
He provides an overview of his thoughts behind the information outlined in his dissertation in the excerpt of his abstract offered here:
Sputnik and the `Space Age' have been cited as major factors in the growth of amateur astronomy in the 20th century. Although the growth of popular astronomy magazines, public planetaria, and the popularity of science fiction contributed to the popularization of astronomy, I contend that the greatest growth in amateur astronomy coincides more with the availability of inexpensive telescopes after World War II.
Circa 1900, the average purchaser of an amateur-grade astronomical telescope was a wealthy doctor, lawyer, or the like. Hand-crafted refracting telescopes were the ideal, but even relatively small instruments of 3-inch aperture cost the equivalent of $3,000 today.
A series of articles appeared in Scientific American in 1926 providing detailed instructions on making Newtonian reflecting telescopes. The articles, the work of two `technological cheerleaders', Russell Porter and Albert Ingalls, proved popular. The resulting home-made telescopes were effective instruments, but cost a fraction the price of a commercial telescope of similar size. By 1940 there were at least 30,000 active amateur astronomers and `ATMs' (amateur telescope makers), of diverse social classes, in America.
The Second World War created an opportunity for ATMs. Modern war requires all kinds of optical instruments, and the government was eager to find skilled workers to produce them. World War II became an `advanced school' of telescope making where ATMs learned mass-production methods. ATMs founded a host of new telescope making companies in the 1950s using mass-production techniques to produce modestly-priced astronomical telescopes: Newtonian telescopes in the 3 to 4-inch range sold for as little as $25 ($150 today). These telescopes were marketed in the same way as automobiles, TVs, and other consumer products.
Countries outside the United States never experienced the `ATM movement' in any major way, nor shared American production techniques. Only Japan adopted the same methods as American commercial telescope manufacturers, huge numbers of small, mass-produced telescopes were being exported from Japan by the late 1950s, and hundreds of thousands of average Americans were involved in amateur astronomy by 1960.
If you are like us, you'll find the Popularization of Astronomy a fascinating read and will perhaps offer a new perspective on all of the amazing technology available to the amateur astronomy community today. You can read the full PDF document here.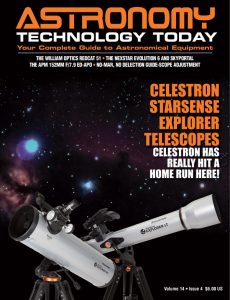 And to make it easier for you to get the most extensive news, articles and reviews that are only available in the magazine pages of Astronomy Technology Today, we are offering a 1 year magazine subscription for only $6! Or, for an even better deal, we are offering 2 years for only $9. Click here to get these deals which only will be available for a very limited time. You can also check out a free sample issue here.