The QHY411 CMOS Camera is billed by QHY as the largest resolution cooled CMOS camera in the world. The 150 Megapixel SONY IMX411BSI back-illuminated sensor has a 14192 x 10640 pixel array with 3.76um pixels. The sensor size is 54mm x 40mm with ultra-low dark noise. The QHY411 is available in both a mono and color version.
The 150 Megapixel QHY411 uses the world's largest resolution single sensor offering 14K x 10K resolution. The QHY411 comes in two versions, USB3.0 and 10GigaE. The USB3.0 supports 1FPS readout speed. Each image is 300MByte. The 10GigaE version supports 2.6FPS readout speed. The QHY411 has Air / Liquid Cooling with 2-stage TE Cooler.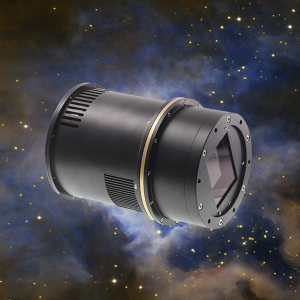 The Sony IMX411 is a 66.7 mm diagonal (Type 4.2) CMOS active pixel type image sensor with a square pixel array and 151 M effective pixels. This IC incorporates maximum 36 dB PGA circuit and 16-bit A/D converter. 16-bit digital output makes it possible to readout the signals of 151 M effective pixels at high-speed of 2.0 frame/s in still picture mode. In addition, vertical sub-sampling binning and 3-horizontal pixel weighted binning realize high-speed 12-bit digital output.
The QHY411 is a back-illuminated Scientific CMOS camera with extremely low dark current using SONY's Exmor BSI CMOS technology.  QHY team notes, "In general, a fan-blade mechanical shutter will be broken if it is used 200,000 times or so, and in some specific cases it is easy to fail to switch on or off. The advantage of electronic shutter over mechanical shutter is high reliability and stability when the observatory shoots a large number of pictures. The electronic shutter is a relatively perfect choice for the observatory."
The QHY411 CMOS Camera offers native 16-bit A/D which, as the QHY team notes, "Most CMOS sensors are 12-bit or 14-bit. This means that the conversion ratio cannot achieve 1e-/ADU and weak signals are not very highly sampled. Photometric measurements of low signals in such case are not as accurate. Some cameras combine two 12-bit outputs to create 16-bit images, but the actual number of levels is still 4096 x 2 = 8192 levels. Still less than native 16-bits. The QHY411 is the world's first scientific CMOS camera with native 16-bit A/D on-chip. The output is real 16-bits with 65536 levels."
One benefit of the back-illuminated CMOS structure is improved full well capacity. This is particularly helpful for sensors with small pixels. Even with unbinned 3.76um pixels, the QHY411 has a full well capacity of 50ke- and >80ke in extend mode. When binned 2×2 to 7.5um the full well is 200ke- and when binned 3×3 to 11um the full well is 450ke-.
The QHY411 has only one electron of read noise at high gain and 1FPS(16bit),2FPS(8bit) high readout speed. One electron of read noise means the camera can achieve a SNR>3 at only 4 to 6 photons. This is perfect performance when conditions are photon limited, i.e., short exposures, narrow band imaging, etc., making this large area sensor ideal for sky surveys and time domain astronomy.
The QHY411 CMOS Camera features include:
– Type 4.2 CMOS active pixels
–  Input clock frequency 72 MHz
– All-pixel readout mode
– Rolling shutter function in moving picture mode
– H driver, V driver and serial communication circuit on chips
– +36 dB gain settable by Bayer color in CDS/PGA on chip
– Built-in 11-bit/12-bit/14-bit/16-bit A/D converter
– 8-channel SLVS-EC output
– This sensor has both monochrome version and R,G,G,B Bayer filter Color Version
– Back-illuminated type
– Back-Illuminated CMOS image sensor
–  Image size Diagonal 66.7 mm (Type 4.2)
– Total number of pixels 14304 (H) × 10802 (V) approx. 155 M pixels
– Number of effective pixels 14208 (H) × 10656 (V) approx. 151 M pixels
– Number of active pixels 14192 (H) × 10640 (V) approx. 151 M pixels
– Chip size 60.30 mm (H) × 47.90 mm (V) (include scribe area)
– Pixel size 3.76 μm (H) × 3.76 μm (V)
Specifications for the QHY411 CMOS Camera include:
– Image Sensor: SONY IMX411 BSI CMOS Sensor
– Pixel Size: 3.76um x 3.76um
– Color / Mono Version: Both Available (QHY411U3G20M; QHY411U3G20C)
– Sensor Surface Glass: AR+AR multi-coating Clear Glass
– Image Resolution: 14304*10748 (Includes the optic black area and over scan area)
– Effective Pixels: 151 Megapixels
– Effective Image Area: 54mm x 40mm
– Full Well Capacity (1×1, 2×2, 3×3): 50ke- / 200ke- / 450ke- in Standard Mode; 80ke- / 320ke- / 720ke- in Extend Fullwell Mode
– A/D: 16-bit (0-65535 greyscale)
– Sensor Size: Typical 4.2 inch
– Sensor Type: Back Illuminated (BSI)
– Read Noise: Approximately 1 to 3 e (in HGC Mode)
– Dark Current: Approximately 0.0011e/pixel/sec at -20C
– Exposure Time Range: 20us – 3600sec
– Frame Rate USB3.0 Port: Full Frame Resolution  2FPS @ 8BIT – 1FPS @ 16BIT; 5000 Lines 4FPS @ 8BIT, 2FPS @16BIT: 3000Lines 7FPS @ 8BIT – 3.3FPS @16BIT; 2000Lines 10FPS@8BIT – 5.5FPS @16BIT; 1000Lines 20FPS@8BIT – 10FPS @16BIT; 500Lines 35FPS@8BIT – 19FPS @ 16BIT
– Frame Rate Fiber Port: TBD
–  Shutter Type: Electric Rolling Shutter
– Computer Interface: SB3.0 and 2*10Gigabit Fiber
– Trigger Port: rigOut High Speed Sync Port / GPS interface
– Filter Wheel Interface: 4PIN QHYCCD CFW Port
– Built-in Image Buffer: GByte (16Gb)
– Non-volatile memory/On camera storage: Built-in total 64MByte Flash Memory. 10MBytes user-accessible space
– FPGA Upgrade Via USB: Supported
– Cooling System: Dual Stage TEC cooler(-35C below ambient with air cooling, -45C below ambient with ambient temperature water cooling). More deltaT below ambient can be achieve by using the cooled water cooling. Fan Cooling/Water Cooling Compatible
– Anti-Dew Heater: Yes
– Telescope Interface: TBD
– Optic Window Type: AR+AR High Quality Multi-Layer Anti-Reflection Coating
– Back Focal Length: 16mm(without tilt adjust ring) 28.5mm (with tilt adjust ring)
– Weight: TBD
– Reference Price (Tax not included) $50000USD
You can learn more about the QHY411 CMOS Camera here.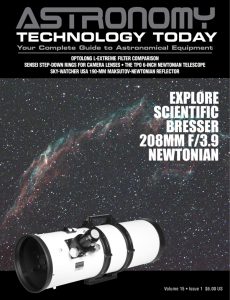 And to make it easier for you to get the most extensive news, articles and reviews that are only available in the magazine pages of Astronomy Technology Today, we are offering a 1 year magazine subscription for only $6! Or, for an even better deal, we are offering 2 years for only $9. Click here to get these deals which only will be available for a very limited time. You can also check out a free sample issue here.