The new QHY5III462C camera uses the latest (6th Generation) 2.1 megapixel IMX462 STARVIS CMOS sensor from Sony. The pixel size is 2.9u making it the same size and resolution as the sensor used in the QHY5III290 camera that has been so successfully used for planetary imaging. Like others in the series, the QHY5III462C is USB 3.0 powered and controlled. No additional power is required.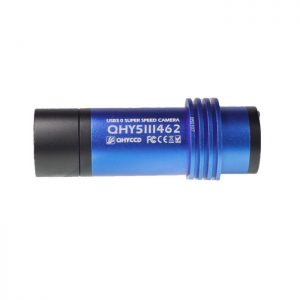 The QHY5III462C camera includes two 1.25″ screw-in filters – a UV/IR cut filter to isolate the visible wavelengths for normal RGB imaging and an IR850 filter that will cut the visible wavelengths but pass wavelengths above 850nm. Together, this yields a camera that can image in visible light only, NIR light only, or combined visible and NIR. Passing all the light, visible and NIR, will produce a very sensitive luminance frame (when shot through a reflector or other scope capable of focusing visible and NiR together) for producing LRGB color images.
The IMX462 sensor is back-illuminated and has sHGC for extremely low read noise (less than one electron) at high gain. This is ideal for stacking hundreds or thousands of short planetary images.
The camera is exceptionally sensitive in the NIR. In this generation of sensor, the photodiode portion of the pixel well is deepened, allowing photons of longer wavelength to penetrate deeper into the substrate and thereby dramatically increases the sensor's sensitivity to red light and near infrared light (NIR). The RGB filters over the pixels become transparent at NIR wavelengths, so the sensor displays almost equal peak sensitivity to NIR light as it does to light in the visible spectrum.
The peak QE in the NIR around 800nm is as high or higher as the peak QE in the visible wavelengths. For planetary imagers using a methane filter that passes light around 880nm this is welcome news as planets such as Jupiter, Saturn, Uranus, and Neptune are rich in methane. Through the 890nm methane filter, the high infrared sensitivity of QHY5III462C can fully obtain methane distribution images.
The camera also performs for near infrared moon photography. In the near-infrared band, it is generally believed that the atmosphere has higher transparency and viewing. Through infrared transmission filters such as IR850, the lunar surface details can be better obtained.
Many mineral components on the lunar surface have different absorption spectrum characteristics in the visible and near infrared bands. By using filters of different wavebands for imaging, color multispectral lunar photography can be achieved with the QHY5III462C camera.
The camera is priced at $299US. More information is available here.
Another recently released planetary camera is the Orion StarShoot G16 Deep Space Imaging Camera which offers excellent sensitivity in a large format, cooled CMOS camera. It is based around the Panasonic MN34230 4/3″ 12-bit monochrome chip, with 3.8 micron pixels, 60% QE, and a large 4640×3506 pixel array. Exposures range from 0.15ms – 3600 seconds, and up to 22 fps at full frame (up to 90+ fps when sub framed) which provides the ability to shoot planets as well as nebulae.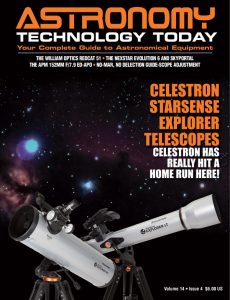 And to make it easier for you to get the most extensive news, articles and reviews that are only available in the magazine pages of Astronomy Technology Today, we are offering a 1 year magazine subscription for only $6! Or, for an even better deal, we are offering 2 years for only $9. Click here to get these deals which only will be available for a very limited time. You can also check out a free sample issue here.