The new QHY600L Lite is a newest version of the QHYCCD QHY600 series of cameras. It is very much like the PHOTO version of the QHY600 camera with a few exceptions that help to make it among the most competitive IMX455 based camera on the market.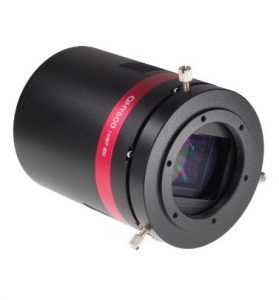 The QHY600L Lite uses the standard (consumer) grade, full frame 35mm format SONY back-illuminated sensor IMX455 sensor, two-stage cooling and fast USB3.0 interface. The QHY600L Lite has a large 1GB DDR3 image buffer (as compared to the 2GB in QHY600PH/Pro), QHYCCD proprietary noise reduction technology, a humidity/pressure sensor in the sensor chamber and multiple read noise modes that are user selectable for lowest possible read noise or highest possible full well capacity. The QHY600L Lite body has been reduced in length and is shorter than either the PHOTO or PRO versions of the 600 series.
QHY600L Lite features include:
– 1GB Image Buffer: The QHY600 comes with a 1GB DDR3 image buffer for smooth, uninterrupted, and high-speed data transfer.
– USB3.0 : QHY's design allows the camera to support USB3.0 high speed interface. QHY's incorporated USB re-connection feature means that this camera's computer connection can be connected and disconnected by turning the 12V power supply on and off. This means you do not have to worry about plugging and unplugging the USB cable, enhancing user control when working from a remote station. All you have to do is control the 12V power supply to control the remote USB connection.
– Application : This camera is great for astroimaging, all sky meteor monitoring, microscopy, fluorescence imaging, high throughput DNA sequencing, aerial photogrammetry.
– Electric Shutter : Equipped with an electronic rolling shutter, the camera utilizes Sony's Exmor BSI CMOS technology and electric shutter. This type of shutter is more reliable than a mechanical shutter and more stable when the astrophotographer takes a large number of exposures.
– Round Body Design : The round camera design of this camera makes it ideal for the new generation of RASA telescopes because it can match the image field.
– Native 16-bit A/D : The native 16-bit A/D on-chip of this camera has an output of 65536 levels. This means that the camera gives a higher resolution and a system gain that is less than 1e-/ADU. QHY's 600 series camera has no sample error noise and very low read noise.
– Low Read Noise : The QHY600 has only one electron of read noise, meaning the camera can achieve an SNR>3 at only four to six photons. You can use this camera for short exposures, narrow band imaging, sky surveys, time domain astronomy, fluorescence imaging, DNA sequencing, and microscopy! QHY has added an innovative suppression technology that can reduce the level of random noise such as the type of thermal noise that is generated by back-illuminated CMOS sensors and has a value not related to the exposure time.
– The high pixel count of this CMOS camera means that the memory requirements for temporary and permanent storage is greater. The QHY600 sensor produces about 120MB of data per frame. Additionally, the data band-width is increases from 16-bits to 32-bits. To sufficiently meet the memory needs, the QHY600 comes with large-capacity memory of up to 1GB.
QHY600L Lite specifications include:
– Image Sensor: SONY Full Frame BSI CMOS Sensor IMX455ALK-K
– Pixel Size: 3.76um x 3.76um
– Sensor Surface Glass: AR+AR Multi-Coated
– Sensor Type: Back-Illuminated (BSI)
– Effective Pixels: 61.17 Megapixels
– Pixel Array: 9576×6388
– Effective Image Area: 36mm x 24mm
– Full Well Capacity: Standard Mode >51ke- / >204ke- / >408ke-, Extend Full Well Mode >80ke- / >320ke- / >720ke-
– A/D: 16-bit (0-65535 levels) at 1X1 binning, 18-bit at 2X2, 19-bit at 3X3, 20-bit at 4X4 software binning
– Sensor Size: Full Frame Format
– Frame Rate: Full Frame Size: 4.0FPS (8-bit output), Full Frame Size: 2.5FPS (16-bit output), 7.2FPS at 9600×3194, 22.5FPS at 9600×1080, 28FPS at 9600×768, 47FPS at 9600×480, 160FPS at 9600×100
– Read Noise: 1.0e- to 3.7e- (Standard Mode)
– Dark Current: 0.0032e-/p/s @ -20C 0.0056e-/p/s @ -10C
– Peak QE: >87%
– Exposure Time Range: 40us – 3600sec
– Firmware/FPGA Remote Upgrade: Supported. Via Camera USB Port
– Shutter Type: Electric Rolling Shutter
– Computer Interface: USB3.0
– Hardware Frame Sequence Number: Supported
– Memory: Built-in 64MByte Flash Memory
– Cooling: Dual Stage TEC cooler (Long exposure is typically -35C below ambient, Short exposure high FPS is typically -30C below ambient)
– Anti-Dew Heater: Yes
– Telescope Interface: M54/0.75
– Optic Window Type: AR+AR High Quality Multi-Layer Anti-Reflection Coating
– Power: 40W/100%, 20W/50%, 13.8W/0%
– Back Focal Length: 17.5mm (±0.2)
You can learn more here.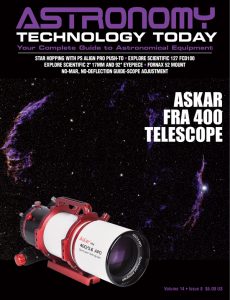 And to make it easier for you to get the most extensive news, articles and reviews that are only available in the magazine pages of Astronomy Technology Today, we are offering a 1 year magazine subscription for only $6! Or, for an even better deal, we are offering 2 years for only $9. Click here to get these deals which only will be available for a very limited time. You can also check out a free sample issue here.