The Radian Raptor 61 is a portable, widefield 61mm f/4.5 apochromatic triplet. It is the first telescope offering from Radian Telescopes, a new company founded by OPT to create products for astroimagers.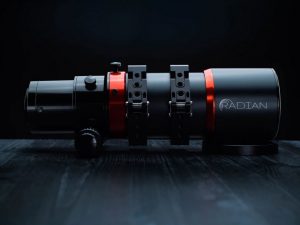 With its fast f/4.5 focal ratio, the Raptor 61 allows for shorter exposures, making it possible to capture quality data on multiple targets in a single night.  The scope features an apochromatic triplet optical design with premium glass and multi-coatings leading to an ultra-clean overall image without the nuisance of reflections.
The 275mm focal length is simultaneously excellent for widefield imaging and highly forgiving  – targets like the entire Veil Nebula and the Orion & Horsehead Nebula together can fit easily into frame on up to full frame sensors.
The Radian Raptor 61 includes a dedicated, factory-matched corrector standard that is intended to be used as an always-on solution for imaging. The corrector's three-element design provides correction for sensors as large as full frame, so no matter which camera you use, pinpoint stars can be seen across the image.
The telescope comes standard with an ultra-sturdy 2.5″ dual-speed rack & pinion focuser offering a 10:1 gear ratio of the coarse and fine focus knobs. The focuser is factory tuned to allow extreme levels of precision when focusing. For those who want to do away with the task of manually focusing altogether, the optional Radian Electronic Focuser is available as an automation upgrade. The Radian Electronic Focuser's high-resolution stepper motor allows you to adjust focus directly (without an additional focus controller) via software from your computer to ensure you get perfect focus automatically every time.
Adding filters to imaging rigs can make figuring out the correct backfocus challenging. The Radian Raptor 61 Filter Vault is integrated directly into the Raptor's included adapters, so you can easily swap out your favorite 2″ filters and never worry about spacing or backfocus.
The Radian team has designed a new, innovative set of rings just for the Raptor 61. The Radian Modular Hex Rings feature a six-sided construction with mounting holes on all sides to attach any accessory you need, saving you headaches and trips to the hardware store. Cables can be routed through integrated cable channels in the rings for improved cable management. Unlike tightening screws that protrude off of the scope and get caught easily, the Modular Hex Rings have a quick-clamp design that eliminates the possibility of cable snags.
To help make sure new owners can use the Raptor 61 straight out of the box, the telescope is shipped with both a 6.5″ universal Losmandy D-style dovetail and a 4″ Vixen V-style dovetail.
At a total weight of just 4 lbs. (1.8 kg), the Radian Raptor 61 can be carried on even the lightest travel mounts, including star trackers like the Sky-Watcher Star Adventurer Pro or the iOptron Skyguider Pro, with weight to spare for a camera as well.
The included dew shield helps fend off dew from forming on the objective on humid nights and front and rear dust covers protect the telescope's optics when not in use. Rotating the camera to get the ideal framing is facilitated by the built-in 360 degree rotator that makes it easy to frame your images to your ideal composition without having to rotate the entire telescope.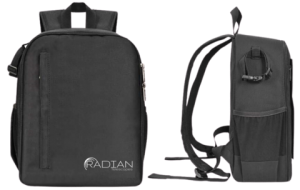 The Raptor 61 uses a simple, industry-standard M48 thread size with full frame sensors in mind. Simply attach an M48 wide T-ring with any DSLR or Mirrorless camera and you're ready to image. The threads can also easily be sized down to smaller formats, such as M42, using the adapters that most manufacturers supply with dedicated astronomy cameras.
The Raptor 61 comes standard with a Radian travel backpack complete with padded inserts sized for carrying the telescope, a CMOS camera, and a number of other accessories safely when you head out to your favorite dark sky site.
The Radian Raptor 61 features and specifications include:
– Aperture: 61mm
– Case Style: Radian Padded Insert Backpack
– Corrector: Integrated Corrector with three element design
– Dew Shield: Included
– Dust Covers: Both front and rear covers included
– Filter Attachment: 2″ / M48 Filter Vault
– Focal Length: 275mm
– Focal Ratio: f/4.5
– Focus Knobs: 10:1 Dual Speed with locking knob
– Focuser Design: Non Helical Rack & Pinion
– Image Circle: 44mm
– Included Dovetails: 6.5″ universal Losmandy D Style and 4″ Vixen V Style
– Optical Design: Apochromatic Triplet Refractor
– Optical Design: Petzval Refractor
– OTA Length (Dew Shield Retracted): 235mm
– OTA Outer Diameter w/o Hex Rings: 80mm
– OTA Outer Diameter: 90mm with dew shield
– Rear Camera Connection: M48x0.75 (wide T-Ring compatible)
– Recommended Back Focus: 55mm (can be reached with included adapters)
– Rotator: 360 degree with locking knob
– Tube Rings: Radian Modular Hex Rings
– Weight: 4 lbs.
You can learn more here.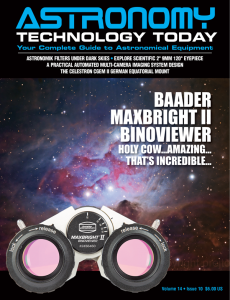 And to make it easier for you to get the most extensive news, articles and reviews that are only available in the magazine pages of Astronomy Technology Today, we are offering a 1 year magazine subscription for only $6! Or, for an even better deal, we are offering 2 years for only $9. Click here to get these deals which only will be available for a very limited time. You can also check out a free sample issue here.