The Rainbow Astro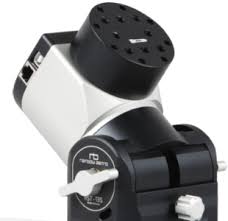 RST-135 Mount uses a type of gear called a strain wave gear. Due to the strong force provided by the strain wave gear and motor, a counterweight is not needed. The mount weighs in at only 3.3kg (7.27lbs) and can carry a payload up to 13.5kg (29.76lbs). Rainbow Astro calls this new mount a "Weightless Mount," as the volume and weight of the mount are very minimal when travelling for astrophotography.
Rainbow Astro RST-135 Mounutilizes a strain wave gear which is a type of gear that is widely used in industrial robots. Strain wave gearing offers an ingenious way to produce a high-efficiency, high ratio gearbox within a small space. It involves an outer fixed ring of gear teeth and an inner flexible ring of teeth which are made to mesh with the outer by means of an oval rotor distorting the ring.
The RST-135 Mount can be easily changed between Equatorial mode and Alt-Az mode, allowing for both photographic and visual use. It offers built-in WiFi and can be controlled and auto guided without a cable. The built-in GPS receiver eliminates the need to enter your location during each session or if you travel with the mount. The home sensor finds the mechanical origin of the mount for remote use.
Rainbow Astro RST-135 Moun Specifications include:
– Dual Equatorial / Alt-Az functionality
– Strain wave gearing
– Payload: 13.5kg (30lbs) with no counterweight; 18kg (40lbs) with counterweight
– Slew Speed: 6º / Second
– Latitude Range; 0º to 90º
– Power Input: 12 to 16V DC
– Power Consumption: 0.2A – Tracking, 16V; 3A – Slewing, 16V
– Weight: 3.3kg (7.3lbs)
– Size(mm): 130 x 120 x 190
– Materials: AL 6061, Steel, Brass
– Supports ASCOM drivers
– Hand controller included
– Built-in WiFi
– Built-in GPS receiver
– Built-in home sensor
And the company is also prototyping a new Rainbow Astro RST-300 increases the load capacity without counterweights of the Rainbow Astro RST-135 mount from 13.5kg to 30 kg. If you use counterweights, the RST-300 can be loaded up to 50kg.
The RST-300 features a brake system built into the RA axis. This is to prevent the back drive from rotating in the direction of gravity when the power is turned off. The second prototype has been completed and is under testing and a production prototype will soon be completed with a final model made available for sale soon.