The Sky-Watcher SolarQuest mount offers a highly portable and easy to use mount for Solar observers and eclipse chasers. You no longer need to worry about aligning your equipment the night before or the early morning. The SolarQuest mount is designed to automatically align itself to the Sun with only the press of a button.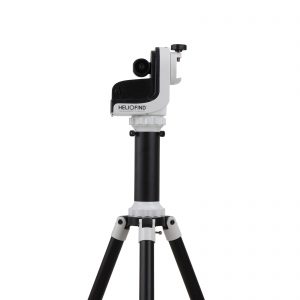 Add your favorite solar-ready optics to the Sky-Watcher SolarQuest Mount, press the power button and let the mount do the rest. Once powered on, the mount will auto-level the telescope and locate a signal with its built-in GPS. After the location is found the mount will locate the Sun using the on-board Heliofind sensor and find the Sun automatically. After the mount is on target you can smoothly adjust the position using the built-in joystick. The mount will then continue to track the Sun.
The SolarQuest with its 11 pound capacity is a perfect option for outreach programs, solar enthusiasts and eclipse chasers. It can be paired with an array of dedicated solar telescopes up to 80mm and telephoto lenses.
Sky-Watcher SolarQuest Mount specifications include:
– Weight Capacity: 11 lbs.
– Total weight: 8.9 lbs.
– Power: 8 AA batteries (not supplied) or 12V with included adapter plate
– Dovetail: V-style
– Built-in GPS
– Helio-Find technology for auto location of the Sun
– Built-in 8-way joystick for centering of the Sun
– DC servo motors
– Slew Speeds: 16x and 1200x
– 3/8 thread mounting hole
– Adjustable aluminum tripod with accessory tray
– Included tripod extension
You can learn more about the Sky-Watcher SolarQuest Mount at Sky-Watcher's website.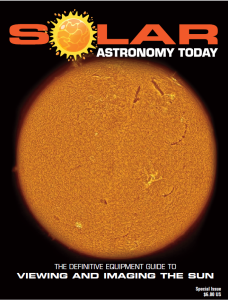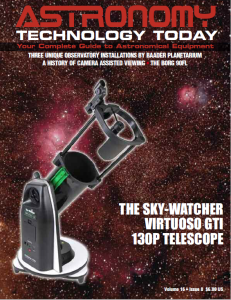 The sun is more active than its been in years! If you'd like to learn more about the technology behind solar observing, solar imaging and more, you can check out our free publication, "The Definitive Guide to Viewing and Imaging the Sun". You don't have to sign up or provide any information, simply click here and enjoy reading!
And if you want to learn more about telescopes and more products used in amateur astronomy you will enjoy the extensive news, articles and reviews that are only available in the magazine pages of Astronomy Technology Today. We are offering a 1-year magazine subscription for only $6! Or, for an even better deal, we are offering 2 years for only $9. Click here to get these deals which only will be available for a very limited time. You can also check out a free sample issue here.