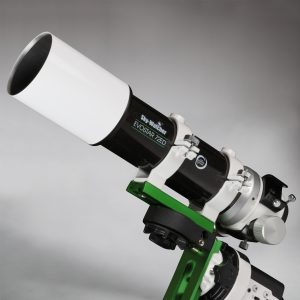 Sky-Watcher USA's Evostar refractors are offered from 72mm – 120mm in aperture and are designed to provide the finest images obtainable in their design class. These doublet refractors feature matched lens assemblies with an ED element.
The EvoStar refractor lens assembly utilizes a proprietary combination of matched lenses, designed to deliver optimum visual and photographic performance.  Even when observing bright planetary objects, the EvoStar refractor eliminates color fringing to deliver an image with tack-sharp stars.
Central to Sky-Watcher USA's color correction is their Metallic High-Transmission Coatings (MHTC), which eliminates virtually all false color. All EvoStar refractor optical tubes have been light-baffled to minimize stray light, and the tube interior features a matte black finish to prevent light reflections from reaching the focal plane.
The tube is made of rolled steel with Sky-Watcher USA's signature Black Diamond metal-flake finish. To contrast, the front and rear cells are constructed with a textured off-white aluminum casting.
The Evostar series includes a 72-mm f/5.8 (420-mm focal length; $465US) apo that offers a 2-inch, dual-speed Crayford-type focuser, tube-ring attachment hardware with a Vixen-style dovetail plate, and an aluminum case.
The Evostar 150 ($2250US) has, as its name indicates, an aperture of 150 mm, a focal length of 1200 mm and focal ratio of f/8. Like its 72-mm sibling, it includes a 2-inch, dual-speed Crayford-type focuser, tube rings, a dovetail plate and an aluminum carry case, but also adds an M48 adapter.
Topping off the line is Sky-Watcher's Evostar 150DX apo ($2800US), which upgrades to a high-capacity 3.4-inch dual-speed rack-and-pinion focuser and heavy-duty mounting rings.
Sky-Watcher USA has released a host of other new products this year, check them out here.