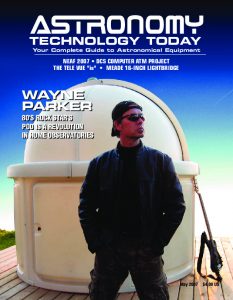 Interview with Wayne Parker Creator of the SkyShed POD: Wayne Parker, creator of the SkyShed POD, POD MAX as well as a number of other astronomy related products, took some time to update us on the process of developing its unique POD MAX observatory. Wayne is also a member of the popular 80's rock band Glass Tiger and still tours with them today. Here are his thoughts below.
The SkyShed Team appreciates this opportunity to update the Astronomy Technology Today audience on our efforts to provide an observatory that is truly affordable for every amateur astronomer. In 2007 our introduction of the SkyShed POD did just that and with the recent launch of the POD MAX we are offering an even larger, yet still affordable observatory offering.
Prior to 2007, we had been successful with our SkyShed roll off observatory design and were embarking on Phase 2 of our mission: That being to create a small, highly-functional, long-lasting, low-cost dome observatory, which was POD. Our goal was simply to make quality dome ownership available to more astronomers than ever.
It's amazing how time flies and already nine years have passed. Thanks to the support of friends like Astronomy Technology Today, and those initial owners who loved their PODs, today there are over 10,000 Sheds and PODs in over 30 countries around the world.
Sure, we get a lot of love and support from those who own our obs, but the things that really make our day are seeing the results of what owners do with our obs. As each year passes, we see more award-winning astrophotography from our owners. We see the fruits of our combined labors in APODs, magazine articles, mag galleries, mag covers, published books filled with incredible photos, and more.
Probably the neatest thing is to watch the emergence of people who, without an observatory, didn't have the time and facility to do a lot of astrophotography. Sometimes within a very short period of time, we see them begin to become noted photographers, speakers, writers of articles, reviewers, and/or heavily involved in outreach and education – all kinds of things that we dreamed about and hoped that astronomers would accomplish in our obs. I must say, it fills us with something akin to a parent-like pride. Not to mention amazement as avid fans of astrophotography.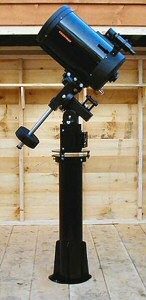 A nice surprise for us along the way has been the popularity of our steel pier design in North America and Europe. Over the years we've added adapters for new mounts as they hit the market. With our "swap-able" top adapter plate, adapters can be swapped out to support a new mount should the owner choose to move up to more sophisticated equipment. Their pier can grow with them, you might say.
The reason I say it's a nice surprise is because we've never really advertised our piers. The objective has been to make them available to astronomers, if they so choose. I guess due to word of mouth and forums online, things like that, we sell hundreds of piers per year. That wasn't really expected.
That's why we debuted our "HD" line of piers, created for larger setups like Paramount ME IIs with 17-inch to 20-inch PlaneWaves with large-format cameras on them. It will be really exciting to see owners' results with even bigger equipment on our larger piers.
Back in 2011, when we had really hit our stride with POD, we decided it was time to embark on Phase 3, our most ambitious phase, to create an even larger dome observatory. Basing our design on everything we had learned from listening to fellow astronomers' needs and desires in a dome larger than 10 feet.
We found there was great need for such a thing. The whole time we had been creating and building our Sheds and PODs, the phone was ringing with school teachers and professors, and people who ran science centers and resorts, looking for a larger dome than our 8-foot model.

We would offer them our Roll Off Shed design, but in most cases they wanted a "Sci-Fi," "Buck Rogers" look – not a quaint cabin – from which to teach astronomy or do public outreach. Immersion is a word we heard often. This gave us great impetus to look toward creating the larger dome model.
The first thing we decided was not to go from POD, which is 8 feet in diameter, to a 10-foot model. That would only be one foot larger in radius. Instead we decided to jump up to 12.5-foot for a real difference in size. It also meant that the largest scope, say a 14-inch SCT or RC, which you might put in a POD 8, would be about the smallest scope you'd normally put in the larger 12.5-foot dome.
I joked in our POD Yahoo forum back then that, due to the popularity and overuse in advertising of the words Max and Extreme, when we built our larger observatories we would add that to the end of the name POD. Therefore, our 12.5-foot dome observatory would be called POD MAX. Before long people were making inquiries about POD MAX. The name stuck.
I mentioned that we based the larger dome on everything we had learned in 15 years of speaking with astronomers – particularly those interested in astrophotography, education, and outreach – about what they desired in what we call a "mid-size" observatory.
We created a wish list/features list that we set as our parameters for the design. In the end, we were able to meet or exceed our list in creating something that we believe is very familiar, yet unique in its list of features.
To give you an idea what I mean, here's a list of the major features we aspired to: (1) A large 44-inch wide, slot opening. (2) Able to house up to a 0.- meter PlaneWave type scope. (3) Opening 22 inches past zenith to accommodate such scopes. (3) A large residential-style door with deadbolt for easy access and good security. (4) POD's modular, interchangeable wall-panel approach, with MAX Bays (larger versions of our POD Bays) extending the wall size up to 18 feet with a six-Bay, "POD MAX XL6" under the 12.5-foot dome. (5) Add a second door for outreach if you like, or to fulfill fire-code requirements. For outreach, you can file 'em in the from East and exit to the West, if you like. (6) As with POD 8, we used premium 3M HDPE. It stands up for decades and is recyclable. HDPE also ships well and functions great in extreme temps and locations. (7) We wanted to have no-crane or heavy equipment necessary for assembly. (8) Black-lined dome and Bays were a must. (9) MAX had to have manual drive, with optional solar-powered motor-control-system by Kendrick Astro. (10 Plus, a wall control panel (CRM-114), hand remote, or PC control for onsite or remote control from anywhere via the net.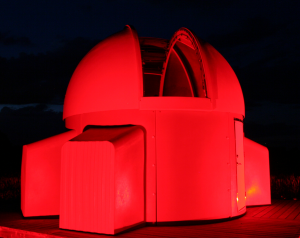 In addition, it was important that we also developed G-POD MAX, the world's first mid-sized observatory made from recycled HDPE. Then we added expert integration assistance with major names like PlaneWave and Bisque. Onsite and/or remote installation and integration assistance, and more.
One of the last things we decided on was that it must be a chain-drive dome system – chain drive for rotation and chain for the slot cover opening and closing. This would give MAX and it's 5-inch thick walls, with a submersible-marine-plywood-laminated-dome-sub-structure, a "tank like" feel.
By the end of 2014, we had developed our systems, and created the giant tooling needed to create thousands of the observatory panels. Before winter, we built POD MAX ONE, a 98-percent production-ready MAX, so that we could test it through the winter. We believe that long-term testing of a building with moving parts is important. We wanted to see how it performs, how the materials react with each other at -20 F and at 100 F.
After the POD MAX passed the Canadian winter with flying colors we began to develop the control system, while we could work in MAX in more comfortable temps.
Soon I was reporting that MAX ONE was my "everyday observatory," meaning that you unlocked the door and walked in, and by the time the computer booted up, you could have the dome open and ready for action. Night after night.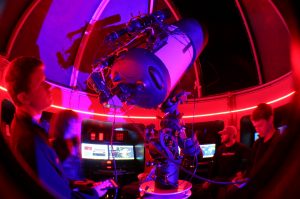 At that point, we were going back and forth from manual to motor-driven dome operation as the Kendrick team visited regularly with updates and progress to their control system. Instead of using optical sensors or mechanical sensors, even magnetic sensors, which can be problematic, we're using magnetic/proximity sensors. Two of the five sensors we are using are ABS sensors used in the wheels of cars – robust and designed to operate in much harsher elements than they'll ever experience inside a MAX.
We knew that it would be difficult to begin serious MAX production during the winter, as owners close to us in northern latitudes can't build in the frozen temps. We decided to keep refining, keep learning, month after month until we were truly ready to start building the first POD MAXs in places including Ontario, Texas, Illinois and Pennsylvania.
And once we ramped up for full production, the orders have not stopped pouring in. I must say that by this point I am totally addicted to MAX ONE. If you've seen the photos and videos on the MAX website, you'll know why I say this. It's pretty much the dream for a lot of us – to be surrounded, with plenty of room, in a large Sci Fi-like dome, with some great gear. In our case, we imagine the space like the bridge of a starship, with our wrap-around Bays that house our monitors and equipment.
It's truly a dream come true, and I can't wait until other fellow astronomers beginning to experience the feeling.
Now comes the truly wonderful part. I mentioned schools and others have been coming to us for years with requests for just such an observatory. Ok. We created it. The problem is, there are always three major flaws to the scenario.
The first is funding. If they do have funding, it may be from a foundation or a benefactor, and between us, we can end up jumping through hoops for months or years without a lot getting done.
Then the board or the mandate will change and they decide to move in "another direction." When there is funding in place, often it can be very restrictive, or the backers can be overly demanding and actually slow progress.
The next is that, very often, it's a single teacher or professor, or member of a club, who have been tasked with the project to research creating the observatory. In the case of educators, they may have little experience in astronomy and may spend weeks or months doing basic groundwork, trying to determine how to integrate the telescope scope system in the observatory.
We decided to spend as effort to create solutions for those problems as we did to create the observatory.
First, we set out to join with the biggest and best names and astronomical equipment in North America. Companies like Celestron, Bisque, PlaneWave, SBIG, Mallincam, Moonlight, Astro Tech, and Kendrick Astro, to create truly integrated system packages, which could come together quickly to create the solutions needed for a given project.
Now that we had all of our friends on board, we needed a way to help these schools and science centers, etc., fund their integrated MAX.
While we were in the development phase of MAX, crowd funding became very popular and successful for many. We went to crowd funding people like Kickstarter and Rally to find out if they could "umbrella" a whole bunch of schools and clubs, etc., into a massive crowd funding project. The answer was that they couldn't support the kind of features we needed to truly be successful with our funding campaigns. Their advice to us was to create our own crowd funding site. So we did.
Ours is different than other CF sites, in that the funding campaign is not limited to 30-60-90 days. It could take longer than that to achieve the total funding needed. Our campaigns are "never ending," meaning that even when a project/campaign has reached its funding goal, we can keep the campaign going in perpetuity, to raise a small amount of yearly contributions to maintain the observatory, update equipment, update the software, pay for ongoing costs.
The beauty of using a crowd funding platform, is that we are no longer working one-on-one with a teacher or professor, or a club member behind mostly closed doors. Now we're opening up the project to a worldwide audience. By including students, club members, fellow astronomers, alumni, etc., we're creating an "army" who can promote project/campaigns.
In addition, we can work with industry partners like NASA, SpaceX, Virgin Galactic, Microsoft, Boeing, CSA, and ESA in funding. This way, we will have a better chance to create hundreds of research-grade POD MAX "Starships."
We'll include provisions for interconnecting them to each other via the net, when the operators of the individual installations approve. That way, they'll all be capable of broadcasting live space imagery and programming, produced right in the POD MAX, using off-the-shelf equipment.
Notice I said "starship." We find that antiquated words like conservatory, laboratory, observatory, sound foreign or somehow "elite" to many people. But say "Starships," and their face lights up. They totally get it. Especially kids. Besides, like unicorns, starships don"t actually exist. Since it is popular these days to use words for other than their original purpose, we figure we have as much right to use the term as anyone.
Therefore, we named our crowd-funding program "The Starships Project." THESP for short. Enroll your club or school and create a Starship!
Lastly, we had to create a quick mechanism online so that anyone can promote and contribute to the projects. We created the "Get On Board" starships banner. It can be placed just about anywhere online or in print, and can link to the THESP website home page, or directly to participating projects.
And currently we have over 60 schools, science centers and more registered in the program, some who have already raised over $80,000US and are on the home stretch to meet their goal!
We're very excited now that we're building POD MAX Starships and ramping up THESP. We're truly thankful for the incredible support the astronomy community has given us over the years – the thousands of our products in use and how much more astronomy is happening because of it.
I hope you'll join with us in ushering in an even more exciting future. Together, we can support and propel astronomy, science education, and public outreach to the next level.
Finally, I hope you'll check out this POD MAX features video offered (humbly) in the style of Kubrick's 2001 : A Space Odyssey. It offers a stylized viewing session helps to show off some of MAX's great features.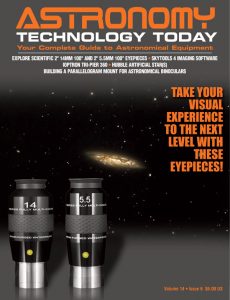 To make it easier for you to get the most extensive telescope and amateur astronomy related news, articles and reviews that are only available in the magazine pages of Astronomy Technology Today, we are offering a 1 year subscription for only $6! Or, for an even better deal, we are offering 2 years for only $9. Click here to get these deals which only will be available for a very limited time. You can also check out a free sample issue here.