The publishers of Astronomy Technology Today have announced a new solar focused magazine, Solar Astronomy Today. The new monthly magazine offers a deep dive into everything about observing and imaging the Sun – and plenty of content on how to best experience the Annular Solar Eclipse on October 14, 2023 and the Total Solar Eclipse on April 8, 2024.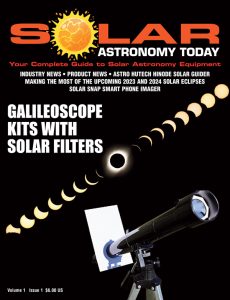 At almost 100 pages in length, Solar Astronomy Today does not require a subscription, simply click here to be taken directly to the issue and start reading. And, as with the Astronomy Technology Today website, the Solar Astronomy Today website is full of news, videos, reviews and more.
As publisher Stuart Parkerson notes, "During the 2017 North American eclipse, our solar related content and solar product guide drew a lot of attention nationally, so we decided to create a new solar focused platform to take these efforts to the next level."
He continued, "One of the things we found after the eclipse was that interest in solar observing did not see a demonstratable increase which we thought was a missed opportunity. Now, unlike in 2017 when we were in a solar minimum, we are perfectly in the middle of Solar Cycle 25 and as people invest in solar equipment, they can use it for spectacular views and images today, tomorrow, for the upcoming eclipses and beyond."
Simultaneous with the launch of Solar Astronomy Today is a new handbook – The Definitive Guide to Viewing and Imaging the Sun. It is a free publication and is available here.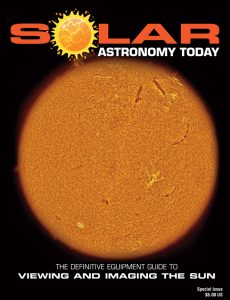 The guide was designed to help those preparing for the upcoming eclipses and who want to know their equipment options ranging from DYI solar viewing projects to solar glasses – all the way the most advanced solar viewing and imaging options for amateurs.
Subjects covered in the guide include:
– Build Your Own Solar Viewer
– Using a Smart Phone to Image the Sun
– Solar Glasses
– Viewing the Sun with Binoculars
– Viewing the Sun with a Telescope
– Viewing the Sun with a Dedicated Solar Telescope
– Using Solar Filters to View the Sun
– Using DSLR Digital Cameras to Image the Sun
– Using CMOS Astronomy Cameras for Imaging the Sun
– Astronomy Clubs and Other Resources
The guide also provides a Company Resource Directory to help readers learn where they can purchase solar imaging/viewing and eclipse related products.
As Parkerson also notes, "For seasoned solar imagers and observers, we invite you to reach out and to discuss the opportunity to contribute articles and reviews to the magazine. You can do so at info@astronomytechnologytoday.com.
You can learn more about Solar Astronomy Today here.