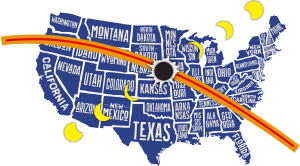 If you're not sure what time the eclipse will begin and end in your area, no problem. Here we provide several maps that you can access to find out the times in your area.
NASA Eclipse Website: NASA has gone all out on their solar eclipse website with interactive maps, eclipse timers and much more.
Eclipse-Maps.com: This site not only provides a map of the solar eclipse, it has more than 1,100 historical eclipse maps you can view from as far back as 1846.
Great American Eclipse: This website offers a wide range of maps, eclipse animation and a
Eclipse2017.org: Elipse2017.org has created a super cool video which uses the latest calculations of the path of the August 2017 Solar Eclipse, combined with Google Earth, to create a "fly-along" with the moon's shadow as it travels over the face of the USA in 2017. Check it out here.
American Astronomical Society (AAS). Here you'll find some of the best eclipse maps available, as judged by members of the AAS Solar Eclipse Task Force.
Remember, don't look at the solar Eclipse without the proper eye protection! Even just a few seconds staring at the sun can cause permanent damage to your eyes.