A Solar Eclipse Planning Workshop is being hosted by the American Astronomical Society (AAS) Friday-Saturday, October 21-22, 2022, at the Rochester Museum & Science Center (RMSC), 657 East Ave., Rochester, NY 14607. The workshop theme is "Preparing Your Community for the Coming Solar Eclipses."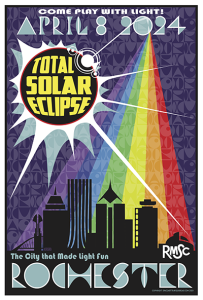 The Solar Eclipse Planning Workshop will be conducted in a hybrid format, accommodating both in-person and remote/virtual attendees. Plenary sessions on topics of general interest will be accessible in real time to off-site attendees via Zoom. The AAS plan for parallel discussion sessions on specific topics is to record them for later viewing as technology and staff time permit.
The AAS is organizing the workshop around three broad topics:
What to tell and how to tell it:
Key messages & managing expectations, communication strategies, marketing milestones, how to speak in soundbites, how to communicate eclipse science, media outreach, use of social media, using art to communicate science, storytelling.
Getting down to the business of preparing your community:
Health & safety, emergency management, managing traffic, planning events, building partnerships & teams, roles and responsibilities of team members, working with governments, tools/resources for eclipse planners.
Meeting the different needs of different audiences:
Museums & planetariums, colleges & universities, primary/secondary schools, libraries, scouts/4-H/etc., big cities, small towns & rural areas, especially large venues, underserved communities/populations, border issues.
Registration and Attendance
This Solar Eclipse Planning Workshop is for everyone involved (or wanting to become involved) in preparing their community for the October 2023 and/or April 2024 North American solar eclipses, whether on or off the eclipse path(s). The AAS is especially eager to have attendees who worked to prepare their community for the August 2017 "Great American" eclipse and have lessons learned and best practices to share with others who are going through this for the first time.
Past workshops have attracted amateur and professional astronomers; formal and informal educators; local, state, and national government officials; representatives from the tourism and hospitality industries; professionals in health, safety, transportation, and emergency management; local, state, and national park rangers; artists, filmmakers, and event planners; and many others who recognize the challenges and opportunities presented by solar eclipses.
Whether you're already working on plans for the coming eclipses or haven't yet begun, the AAS Solar Eclipse Planning Workshop will provide you with practical, actionable advice and information to help ensure successful and inspiring engagement with the coming eclipses.
In-person registration costs $150. Among other things, this fee covers breakfast and lunch both days, refreshments during coffee breaks both days, one drink at a cocktail hour on Friday (cash bar available for additional drinks), and attendance at "RMSC After Dark" on Friday evening. Virtual registration costs $25; this fee helps offset the costs of equipment and bandwidth.
Registered attendees are invited to submit contributed presentations in the form of PDF posters. These will be made available online for attendees to download and read. A small number of in-person attendees may be invited to print their posters for display on bulletin boards at the workshop.
Contributed Posters
PowerPoint, Keynote, or other presentation software is a great way to create such a poster, though you could work in Word or anything else you find suitable. Whatever program you use, save or export your presentation as a PDF. Use settings optimized for display on a screen (as opposed to, say, publication-quality printing) to minimize the file size.
Once you've created your poster, use the event poster submission form to send it to the AAS here. You may submit more than one poster if you wish. The deadline is Tuesday, October 18th, at 2 pm PDT/5 pm EDT.
Exhibitor/Vendor Information
The event can accommodate a small number of eclipse-related exhibitors and/or vendors who wish to display their resources and sell their merchandise at the workshop. The cost is $500, which includes in-person registration for one person. If interested, you can learn more here.
You can learn more about the Solar Eclipse Planning Workshop and other AAS solar related workshops here.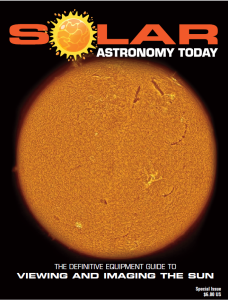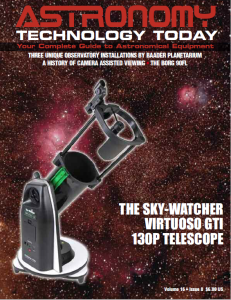 The sun is more active than its been in years! If you'd like to learn more about the technology behind solar observing, solar imaging and more, you can check out our free publication, "The Definitive Guide to Viewing and Imaging the Sun". You don't have to sign up or provide any information, simply click here and enjoy reading!
And if you want to learn more about telescopes and more products used in amateur astronomy you will enjoy the extensive news, articles and reviews that are only available in the magazine pages of Astronomy Technology Today. We are offering a 1-year magazine subscription for only $6! Or, for an even better deal, we are offering 2 years for only $9. Click here to get these deals which only will be available for a very limited time. You can also check out a free sample issue here.