The StarAid Revolution Autoguider is a stand-alone autoguider with camera shutter control, dithering, automatic polar alignment and built-in plate solving. There are a multitude of cameras available for autoguiding, however they can require a laptop or PC and suitable software. Now, standalone solutions are coming out which do not require these supports. The latest innovation in this field is the StarAid Revolution – Revision B autoguiding camera. Tracking monitoring is extremely simple using this device.
Simply connect the StarAid to your guide scope, connect it to your mount via the guide port, and voila! StarAid kicks into action after around 30 seconds and sends corrective impulses to your mount's motors.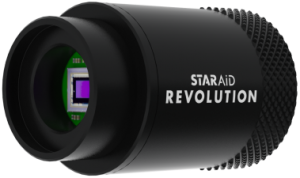 To facilitate camera control, the StarAid Revolution Autoguider provides a standard 2.5mm camera shutter port on the back. Most DSLR and mirrorless camera models support remote shutter release. Once StarAid is connected to your camera remote shutter release, you can configure the exposure time of your camera and how many shots you want to take using the StarAid App. Camera control works best when your camera is configured to use the bulb setting so that StarAid can control the exposure time. If your camera does not support a bulb setting, you need to configure the exposure time on your camera to match the configured value in the StarAid app.
You can image comets with long exposures as StarAid provides a well maintained catalogue of interesting comets. Simply select a comet from object guiding and point your main telescope at the comet. StarAid tracks and keeps the comet stationary so you can confidently take long exposures for crisp comet images. Once object guiding is enabled, no laptop or any other device is needed.
Polar alignment in 2 minutes
Point your telescope up at the sky. No need to have a view on the poles. StarAid Revolution will determine the exact coordinates to set the axes of your mount to. Adjust the mount knobs as indicated in the StarAid app. That's it. No polar scope, no awkward crouching.
– Just point your telescope anywhere in the sky. No need to see the celestial pole from your location.
– StarAid will tell you how to set your mount.
– Works equally well in the Southern hemisphere, Northern hemisphere and at the equator.
– Works well for apartment windows or balconies where the celestial pole is obscured.
– Choose fast or high accuracy: typically 30″ within 2 minutes (good enough for guiding), 10″ within 4 minutes (accurate), or 1″ within 12 minutes (precise).
– Intuitive guidance with real-time visual feedback while making adjustments.
– All mounts with adjustable screws or knobs are supported (even single-axis tracking mounts).
– Polar alignment also works without a connection to the guide port.
Start guiding within 30 seconds
Plug in the cable, then lean back and enjoy a cold drink. StarAid Revolution starts up and operates autonomously. It resumes when clouds pass by, and tracks and keeps stars centered at high accuracy.
– Autoguiding starts automatically as soon as you power on your StarAid.  Point your telescope anywhere in the sky, and StarAid will find multiple guide stars. Even under a full moon or in a rich star cloud in the milky way under pristine skies.
– No laptop or any other device needed
– Guiding automatically resumes when clouds pass by or when you move your mount to a new location
– Recognizes and tracks 1 to 20 stars simultaneously
– Advanced, high performance proprietary star recognition and centering algorithm
– Guiding accuracy not affected by mount backlash
– Up to 30% sharper photos
– Sends up to 5 corrections per second (5Hz) to the mount to minimize drift effects and correct some of the seeing (5Hz)
– Finishes mount calibration in 4-30 seconds
– Automatically optimized guiding parameters
– Let AI do the tedious work
– StarAid automatically monitors the seeing conditions and the mount response
– It uses Artificial Intelligence to find the optimal guide parameters
Automatic plate solving within 2 seconds
– The Sky Recognition functionality recognizes 96% of all locations within 2 seconds (under clear skies, without moonlight)
– Start it with a tap from the StarAid App
– No Internet needed
– Check the coordinates in the app, and enter it in your mount to use it for GOTO
All mounts with an ST-4 compatible guide port are supported. Tested on the following mounts and mount types:
– All mounts with an Astro-Eletronik FS-2 control box
– Astro-Physics control boxes GTOCP v2, v3 and v4
– Astro-Physics 1100
– Astro-Physics 1200
Astro-Physics Mach1
– Avalon mount
– Celestron AVX
– Losmandy GM-8 with original DDS
– Losmandy G-11
– Meade FORK mount
– RainbowAstro RST150H
– Sky-Watcher Star Adventurer Pro (RA only)
– Sky-Watcher EQ5
– Sky-Watcher EQ6 and EQ6-R
– Sky-Watcher EQ8
– Vixen Super Polaris types with BoxDorfer MTS-3 kit
– Can be used with Losmandy DDS control box
You can learn more about the StarAid Revolution Autoguider here.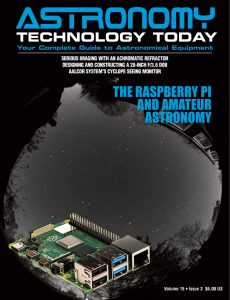 And to make it easier for you to get the most extensive news, articles and reviews that are only available in the magazine pages of Astronomy Technology Today, we are offering a 1 year magazine subscription for only $6! Or, for an even better deal, we are offering 2 years for only $9. Click here to get these deals which only will be available for a very limited time. You can also check out a free sample issue here.