Celestron has introduced the StarSense Explorer line of telescopes that are specifically optimized to use smartphone technology to analyze the night sky and calculate its position in real time.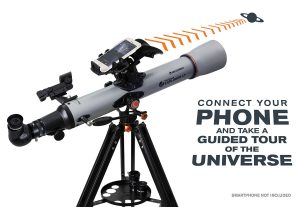 Celestron's goal in developing the new telescope was to reinvent the manual telescope and make the experience for those new to amateur astronomy easy and affordable. Thanks to the StarSense app's user-friendly interface and detailed tutorials, the StarSense Explorer telescope line diminishes the learning curve associated with traditional telescopes eliminating the need for users to learn star charts, planetarium apps, and complicated computerized mounts.
"The industry's first smartphone-driven auto-locating telescope, StarSense Explorer, finally offers thousands of consumers who were previously overwhelmed or daunted by telescopes a seamless and accessible path to sky exploration that is easy, affordable and visually breathtaking," said Corey Lee, CEO, Celestron. "The StarSense Explorer provides sophisticated sky mapping technology and our latest telescope innovations at a tremendous value."
The StarSense Explorer project was covertly in development for more than two years and is now available for immediate shipment and offered in four variations, including the StarSense Explorer DX 130AZ reflector telescope priced at $399.95US. Three refractor versions are also available including the DX 102AZ refractor priced at $399.95US, the LT 114AZ Newtonian Reflector priced at $179.95US and the LT 80AZ Refractor priced at $179.95US.
To use the new telescope users simply place their smart phone in the unique StarSense dock and launch the StarSense Explorer app. After a quick, 2-minute procedure of aligning the phone to the telescope's optics, the app generates a list of celestial objects currently visible. Users then simply make a selection and arrows appear onscreen, guiding as the telescope is moved. When the object is ready to view, the bullseye turns green.
StarSense Explorer works with most modern smartphones, including iPhone 6 and up and most devices running Android 7.1.2 or later manufactured since 2016.
The app features a unique guidance system that allows users to simply follow on-screen arrows to precisely and easily locate a desired object, without requiring a Wi-Fi or cellular signal. The app uses patent pending StarSense sky recognition technology and a smartphone to determine exactly where the telescope is pointed in the night sky. A Lost in Space Algorithm (LISA), like the ones satellites use in orbit to correctly reorient themselves, helps the app match star patterns it detects overhead to its internal database. This process differs from systems using a phone's gyros and accelerometers, which aren't as accurate as LISA technology.
A stable altazimuth mount provides a sturdy foundation for StarSense Explorer telescopes. Slip clutches and geared slow motion controls in both axes help move the telescope smoothly and zero in a target. As celestial objects appear to drift across the night sky, users will be able to follow them with just a turn of the knobs. It's all anchored by an adjustable, full-height tripod.
The telescopes are available from Celestron dealers across the globe. You can learn more here.
To learn more about these telescopes, you can read Dr. James Dire's article in the Volume 14, Issue 4.