The new Orion Telescope and Binoculars' StarShoot Mini cameras in color and monochrome are now available. Orion has utilized technology from their popular large format series cameras like the G10 and G16 and miniaturized them for affordability and convenience.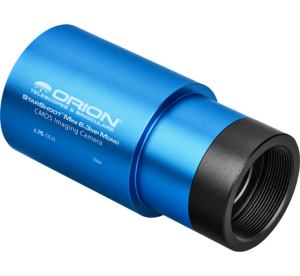 The StarShoot Mini 6.3mp Color Imaging Camera is built around the Sony IMX 178 color CMOS chip, featuring a sensitive (78% QE) one-shot color 14-bit CMOS sensor with a 1/1.8″ format chip at 3040×2048 pixels. This extremely sensitive chip works well both for planetary and deep-sky imaging.
First, the USB 3.0 port allows incredibly fast data transfer (up to 5 Gbit/second), meaning in video mode you can grab planetary video at a rate of up to 59 frames per second at full resolution, and up to 150+ fps when sub framing. Stacking hundreds of images together is the best way to get the finest details possible on planetary surfaces, and the StarShoot Mini excels at this type of imaging.
The sensitivity and long exposure capability of this chip also means you can image deep-sky objects. Even without an active cooler, the noise level of this chip is quite low, so stacking multiple long exposures together will result in a high-quality deep-sky image. For those interested in EAA (Electronically Assisted Astronomy) imaging, this camera provides the ability to stack hundreds of short exposures in semi-real time.
The camera also includes a built in ST-4 port for guiding providing the ability to convert it into an autoguider while your DSLR or other astro camera images the sky. A standard ST-4 style guide cable is included and will work with any mount that utilizes an ST-4 guide port (including the Orion SVP Go-To, Sirius, Atlas, and HDX lines of mounts).
The camera is compatible with Win 7/8/10 as well as being ASCOM compatible. This means it can be controlled from most dedicated astro-imaging software programs on the market, which will really unlock the full potential of the StarShoot Mini camera. Included is a USB 3.0 cable, guide cable, and 1.25″ nosepiece.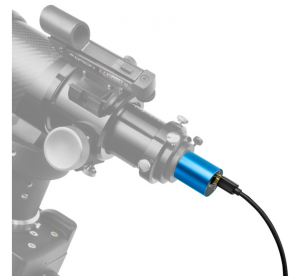 Specification include:
– Imaging sensor: Sony IMX178
– Imaging sensor size: 7.37mm x 4.91mm
– Pixel array: 3040 x 2048 (6,225,920 total)
– Pixel size: 2.4 x 2.4
– Imaging chip: Single Shot Color or Monochrome
– Video frame rate: Up to 59 fps at full resolution, higher if cropped
– Autoguider capability: Yes
– Exposure range: 0.244ms – 1000s
– A/D conversion: 14 bit
– Thermoelectric cooling: No
– IR filter: Single Shot Color Yes, Monochrome No
– Mounting: 1.25″ nozzle or c-thread
– USB connection: High-speed USB 3.0
– Software compatibility: Windows 7/8/10
– Read noise (RMS): 1.4e- 2.2e
– Gain: Adjustable
– Binning: 1×1, 2×2
– Weight: 2 oz.
You can learn more about this and other Orion products at Orion's website.
Also recently released by Orion is its Orion 80mm ED Semi-Apo Binocular Spotting Scope which sports two eyepieces providing an incredible 3D-like depth of field. Orion calls it a spotting scope, but in fact this instrument is a high-quality, wide-field refractor telescope for both terrestrial and celestial observation.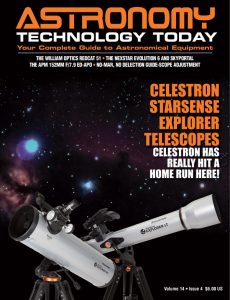 And to make it easier for you to get the most extensive news, articles and reviews that are only available in the magazine pages of Astronomy Technology Today, we are offering a 1 year magazine subscription for only $6! Or, for an even better deal, we are offering 2 years for only $9. Click here to get these deals which only will be available for a very limited time. You can also check out a free sample issue here.