The team behind the Stellarium planetarium software has announced that Stellarium 1.0 is now available.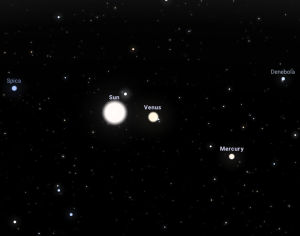 As the Stellarium planetarium team notes, "What makes this 1.0? After more than 20 years of development the program is finally accurate enough for historical application. This is the first release based on the Qt6 framework, so the project is safe for future development. These packages are tagged with a version number like 1.22.3. We keep releasing Qt5-based packages for legacy or obsolete systems. This may include many Windows users who have to run ANGLE mode. These packages are tagged with a version number like 0.22.3.
Stellarium 1.0 is an open-source application which renders 3D photo-realistic skies in real time displaying stars, constellations, planets, nebulae and more. Stellarium is licensed under the terms of the GNU General Public License version 2 and is available for Linux, Windows, and macOS.
Stellarium provides a real-time view of what the sky looks like from anywhere on earth. Users can fast forward the time to track the movement of stars and other objects across the sky. There is a zoom option available to simulate using a telescope or binoculars.
The free software offers a built-in catalogue of more than 600,000 stars and provides the ability to download additional catalogues of over 177 million stars. A plugin is available to provide telescope control, artifical satellites, ocular simulation and more.
Stellarium planetarium also offers:
– Default catalogue of over 80,000 deep-sky objects
– Extra catalogue with more than 1 million deep-sky objects
– Asterisms and illustrations of the constellations
– Constellations for 40+ different cultures
– Images of nebulae (full Messier catalogue)
– Realistic Milky Way
– Very realistic atmosphere, sunrise and sunset
– The planets and their satellites
– All-sky surveys (DSS, HiPS)
Highlights of the Stellarium 1.0 release include:
– A new, much better skylight model (Not for MacOS and OpenGL ES2 systems)
– Many details around eclipses
– Updated Observation List features
– New features in AstroCalc tool
– HiDPI improvements
– Better dithering
– Able to use Windows location service (Windows)
– New skyculture: Samoan
– Updated several skycultures
– Updates in Angle Measure, Satellites, Oculars, Remote Control, Pulsars plugins
You can learn more about the Stellarium 1.0 software version release here.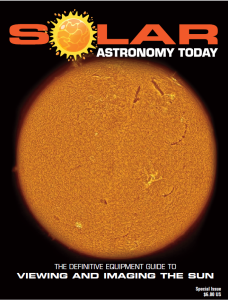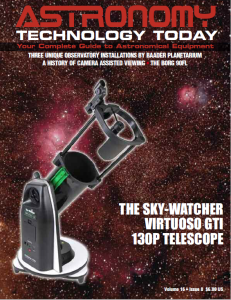 The sun is more active than its been in years! If you'd like to learn more about the technology behind solar observing, solar imaging and more, you can check out our free publication, "The Definitive Guide to Viewing and Imaging the Sun". You don't have to sign up or provide any information, simply click here and enjoy reading!
And if you want to learn more about telescopes and more products used in amatuer astronomy you will enjoy the extensive news, articles and reviews that are only available in the magazine pages of Astronomy Technology Today. We are offering a 1 year magazine subscription for only $6! Or, for an even better deal, we are offering 2 years for only $9. Click here to get these deals which only will be available for a very limited time. You can also check out a free sample issue here.