The new Stellarvue Raptor SVX130T-R is the latest telescope in the Stellarvue Raptor lineup. The SVX130T-R is the carbon fiber tube version of the company's premier high-performance 130 mm apo triplet refractor. This telescope uses a unique lens design that provides excellent sphero-chromatic correction using a super low-dispersion center element and a Lanthanum rear element.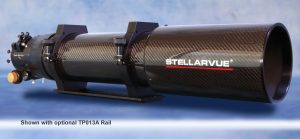 According to the Stellarvue team, "The original Stellarvue SVX130T has been an industry-leading 5" refractor for years, and at long last it will be joining the company's line of carbon fiber Raptor Telescopes. The Raptor family has a long history dating back to 2011, when the name was originally chosen by Stellarvue's founder Vic Maris to denote our telescopes using carbon fiber tubes combined with sharp hand-figured optics."
They continued, "Carbon fiber helps to lighten the payload and this SVX130T is one of the most beautiful scopes ever made by Stellarvue, with every detail silhouetted by the dark lines of the carbon fiber tube. Being an SVX-series telescope it is sure to impress with its performance even more than its looks."
Each SVX130T objective is hand figured in Stellarvue's optical shop to a guaranteed Strehl rating of 0.99 to 0.996. Each SVX130T-R comes with CNC machined tube rings, a heavy duty case, and a Zygo interferometric test report taken at full aperture to document the accuracy of each completed objective.
According to Stellarvue, "Our SVX 130T apochromatic telescopes use objectives that have the highest optical ratings as measured and documented on our Zygo Phase-Shifting Laser Interferometer. Our 130 mm SVX series optics are rated at .99 – .996 Strehl with excellent optical correction of aberrations commonly seen in mass-produced optics. To attain this level of optical accuracy we must go beyond machine polishing. Our experienced opticians use specially made tools to hand-figure objectives here in our optical shop in Auburn, CA. Stellarvue Premier (SVX) Series refractors are for the astronomer who recognizes the best when they see it. Each 130T refractor comes with a Zygo interferometric test report taken in our shop, documenting the accuracy of your individual objective."
Specifications include:
Objective Lens:  Air-spaced 130 mm, 910 mm focal length (f-7) fully multi-coated apochromatic triplet. The front lens is a durable, conventional glass, the second is a very expensive super low-dispersion (vD =94.93 – 95.10) element and the third is a Lanthanum element. Combining the best, high homogeneity optical glass with extreme wave front accuracy (.99 Strehl or better) these are the best 130 objectives Stellarvue has ever offered. Each objective is meticulously figured in the company's optical shop in Auburn, California. A final Zygo optical test report is included.
Tube Assembly: All aluminum, Instrument White, fully baffled, 5.5" diameter tube. Telescope is 29.5″ long with dew shield retracted and 35″ long when extended.
Dew Shield: 6 5/8″ (168 mm) diameter, 9 5/8″ long retracting aluminum dew shield in Instrument White with black anodized fittings.
Dimensions: OTA: 5.5″ diameter, 29.5″ long with dew shield retracted and 35″ long when extended.
Weight: OTA: 20.6 pounds. Rings weigh 1.4 pounds each. Slightly heavier with the Feather Touch focuser option.
Focuser: Included at the base price is Stellarvue's 3.5″ dual-speed rack and pinion focuser with 2″ and 1.25″ adapters. Customers may upgrade to a 3.5″ Feather Touch focuser which is the most popular version of this telescope as it works well for both imaging and visual observation. Either of these two versions come with a standard FBB dovetail shoe for use with the standard finder scope rings. A third version is often chosen by advanced astro-photographers who only use their telescope for imaging. This third version comes with the fully computerized Moonlight Nightcrawler 3.5″ focuser.
Rings: Very heavy duty CNC mounting rings using 6061 T6 aluminum plate. Five threaded 1/4-20 holes top and bottom spaced 1.5″ and 60 mm apart with one in the center. 5 mm side hole for reflect finder mounting.
Case: The Stellarvue C130L case comes standard with the SVX130T. This is the company's largest heavy duty soft case. Exterior dimensions are 39″ x 10 1/2″ x 10 1/2″; interior dimensions are 36″ x 8″ x 8″. The case has two internal dividers that are held in place by Velcro and can be easily removed and rearranged.
Light Gain: 345x (human eye = 1)
You can learn more here.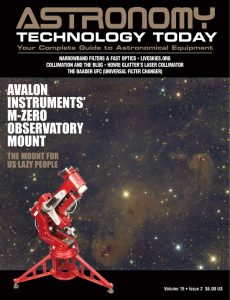 And to make it easier for you to get the most extensive news, articles and reviews that are only available in the magazine pages of Astronomy Technology Today, we are offering a 1 year magazine subscription for only $6! Or, for an even better deal, we are offering 2 years for only $9. Click here to get these deals which only will be available for a very limited time. You can also check out a free sample issue here.