The Stellarvue SVX140T is Stellarvue's newest SVX Refractor and the long anticipated telescope is now available for order. The 140 mm f-6.7 apo triplet refractor takes advantage of the techniques the company has developed in making its SVX series telescopes. They have shortened the focal length and integrated an air-spaced objective, which provides outstanding sphero-chromatic correction.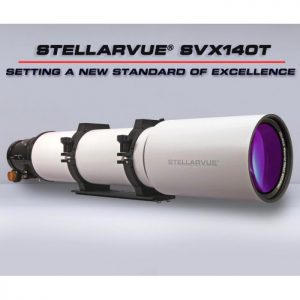 Included in the Stellarvue SVX140T package is:
– SVX140T telescope
– CNC-machined tube rings
– Chose one of three 3.5″ focusers with 2″ and 1.25″ adapters (Stellarvue, Feather-Touch or Moonlight Nightcrawler)
– TP013 Losmandy style rail
– Carrying case
Stellarvue has been working on these optics throughout 2020. As the team notes, it is a long process as glass is being polished and hand-figured to .99 Strehl or higher. Deliveries have now started and new orders are estimated within one to two months, depending on how long it takes to get each and every objective ordered figured to this extremely high optical accuracy.
The Stellarvue team gives these thoughts on creating the Stellarvue SVX140T refractors:
"There are two important factors make this objective lens as good as we can make it:
Our design uses an Ohara FPL-53 extra low dispersion center element and a Lanthanum rear element. This lens has a glass combination that delivers highest contrast performance we could obtain. It is the same glass used on our flagship SVX152T.
"All SVX series optics larger than the 80mm are rated at .99 – .997 Strehl with excellent optical correction for aberrations commonly seen in mass produced optics. To attain this level of optical accuracy in a relatively short f-ratio, we use special tools and experienced opticians to hand figure objectives here in our optical shop in Auburn California. SVX series telescopes are exceptional, placing more than 99% of the light precisely where it should be. Stellarvue Premier (X) Series refractors are for the astronomer who recognizes the best when they see it. Each SVX series refractor comes with a Zygo interferometric test report taken in our shop, documenting the accuracy of your objective."
The SVX140T is available with one of three different 3.5″ focusers. The 3.5″ aperture of all of these focusers significantly reduces vignetting seen in smaller focusers when imaging.
This includes the stock Stellarvue 3.5″ focuser which has the longest travel and comes with 2″ and 1.25″ compression ring adapters and two finder scope shoes. This is the least expensive option and it provides a very smooth and stable mechanism. This is a perfect focuser for visual use and imaging with cameras up to full frame. Optec makes temperature compensating motors for this focuser.
The Starlight Instruments 3.5″ focuser is also available with 4.5″ of travel and 2″ and 1.25″ compression ring adapters. This focuser that is equally smooth as the Stellarvue focuser and may be slightly more stable under various conditions. If you are serious about imaging and visual use, this upgrade deserves consideration. Both Optec and Starlight Instruments make motors for these focusers.
The third option is the Moonlight Nightcrawler 3.5″ focuser with various extension tubes, 2″ and 1.25″ adapters. This is an advanced, electronic, computerized focuser preferred by dedicated imagers. It is the most expensive upgrade but for those who want perfection when it comes to imaging, this is considered one of the best. The downside is a very short focuser draw tube length which is great for imaging stability, but one must thread in various extensions when converting to visual use.
The Stellarvue C140L case comes standard with the SVX140T. This is the company's largest heavy-duty soft case. It is made of rugged material construction and is thickly padded. The case has two internal dividers that are held in place by Velcro and can be easily removed.
The SVX140T also comes with CNC mounting rings, a retracting dew shield, metal dust cap and protective case. Users will need a star diagonal, eyepieces, mount and tripod to observe with this telescope and a finder scope is always helpful in locating objects.
The Stellarvue SVX140T specifications include:
– Objective Lens: Air spaced, hand figured 140 mm, 938 mm focal length (f-6.7) fully multi-coated, apochromatic triplet using a combination of extra low dispersion and Lanthanum elements. Lens is mounted in an adjustable steel cell. .98 -.996 Strehl, test report included.
– Tube Assembly: All aluminum, Instrument White, fully baffled.
– Dew Shield:  6 5/8″ (168 mm) diameter, 12″ long retracting aluminum dew shield in Instrument White with black anodized fittings.
– Dimensions:  OTA: 5.5″ diameter, 31″ long with dew shield retracted and 38″ long when extended.
– Weight: OTA: 19 pounds. Rings weigh 1.4 pounds each. Slightly heavier with the Feather Touch option.
– Focuser option 1: Stellarvue's 3.5″ dual speed, rack and pinion focuser with 2″ and 1.25″ compression ring adapters. Includes Stellarvue's standard FBB dovetail shoe for use with the company's finder scope rings.
– Focuser option 2: Feather Touch 3.5″ focuser with 2″ and 1.25″ compression ring adapters. Includes Stellarvue's standard FBB dovetail shoe for use with the company's finder scope rings.
– Focuser option 3: Moonlight Nightcrawler WR35 3.5″ computerized focuser. Includes 2″ compression adapter, four WR35 threaded extension tubes (1/4″, 1/2″, 1″ and 2″), WR35 to Stellarvue M75 threaded adapter, power supply, left knob rotation & aux focuser/ right knob focus, eccentric cam bearing collimation system, remote temperature probe, ASCOM / non-ASCOM / SKYX, focuser-mounted display.
– Mounting Rings: Very heavy duty, American made CNC mounting rings using 6061 T6 aluminum plate. Five threaded 1/4-20 holes top and bottom spaced 1.5″ and 60 mm apart with one in the center. 5 mm side hole for mounting a red dot or MRF finder.
– Case: C140 Thickly padded, heavy duty case.
– Light Gain: 400 X  (human eye = 1)
– Contrast & Color Correction (1-10): 10
– Photographic Image Circle: 60 mm using the SFF5-140 field flattener; 43 mm using the SFF4-140 field flattener; 43 mm using the SFFRR.72-140 reducer/flattener.
You can learn more at here.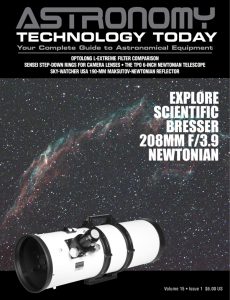 And to make it easier for you to get the most extensive news, articles and reviews that are only available in the magazine pages of Astronomy Technology Today, we are offering a 1 year magazine subscription for only $6! Or, for an even better deal, we are offering 2 years for only $9. Click here to get these deals which only will be available for a very limited time. You can also check out a free sample issue here.