While Tele Vue may be best known for creating state-of-the-art eyepieces and high-end telescopes, the company also offers a number accessories for observing and imaging. This includes two types of Digiscoping adapters and Digital Indicator kits that can be used to image the Sun.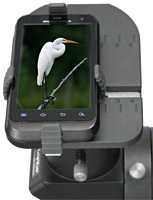 Digiscoping
Taking photos through a telescope eyepiece is an easy way to step into nature and planetary/solar photography. Tele Vue has two types of Digiscoping adapters: FoneMate, for smart phones (Image 1), and a Digital Rings/Radian Adapter system (Image 2), for point-and-shoot cameras with filter threads.
Tele Vue adapters allow solid, accurate attachment of smart phones and digital cameras to appropriate Tele Vue eyepieces for "afocal" imaging (Digiscoping). "Afocal" means collimating light between the telescope eyepiece and camera lens. To minimize vignetting and maximize image quality, Tele Vue offers an eyepiece specifications table for eyepieces recommended for Digiscoping. As noted in the table, some eyepieces require an additional adapter.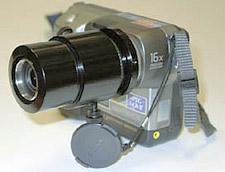 When imaging the Sun, these offer a great opportunity to utilize your smartphone or DSLR with a telescope that has been properly set up for Solar imaging.
Digital Indicator and TVFocus Software
Tele Vue's Digital Indicators employ TVFocus software and a special RS232 cable to monitor a telescope's focus position on a Windows PC (Image 3). TVFocus features include: continuous or momentary position readout; up to four preset positions – saved between sessions (this feature is handy when swapping filters that change the point of best focus or when using non-parfocal eyepieces); yellow and green indicators when approaching or have achieved a preset focus position; and zero reset provides the ability to zero the indicator at any point.
You can learn more here.