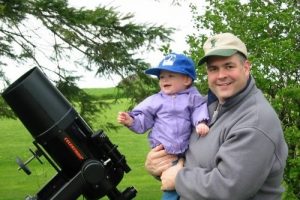 The Nagler family has been an institution for the astronomy community since 1979 providing world class optics through their Tele Vue brand. The Nagler family has announced it is donating the prototype Apollo 11 eyepiece serial number 1 to be auctioned in support of the family of Tom Trusock, who passed away earlier this year. The Tele Vue Apollo 1 eyepiece is a limited-edition release of 300 eyepieces to be available for purchase later this year.
Trusock was well known and respected in the astronomical community as a writer and educator. He was an editor and published articles for the popular website CloudyNights as well as writing for other astronomy related publications including Astronomy Magazine. He also participated annually in a number of educational presentations at astronomy events across North America.
The auction is being held through the CloudyNights.com website. To participate, go to the website, then click on the link available for the auction.