Long time subscribers of Astronomy Magazine may remember that there used to be two smaller quarterly available from the publisher – Deep Sky and Telescope Making. As Astronomy Magazine's Editor David Eicher notes, "These sister publications were extremely popular with amateur astronomers in the boom days of the Dobsonian revolution, when large telescopes were first available to amateurs and an explosion of knowledge about what could be seen in the sky was first happening."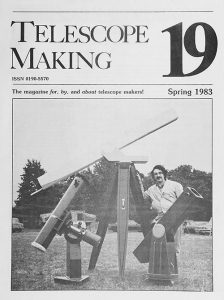 The magazines are still alive today as digital versions available from Astronomy Magazine's "My Science Shop" website as individual downloads and they offer a fun look back into the amateur astronomy industry. There is an overview of each issue including the individual articles so you can peruse each issue and decide if that specific issue has something of interest to you.
Eicher actually started Deep Sky as a monthly publication when he was a sophomore in high school in Ohio. In 1982, he joined the Astronomy staff and brought the magazine with him and  published it as a quarterly magazine for the next 10 years.
Former Astronomy Editor Richard Berry started Telescope Making magazine in 1978 during the days of the Dobsonian revolution. That was when building your own telescope was the way to get a really large-aperture scope.
As Eicher notes, "Articles in Deep Sky magazine still offer an amazing amount of value for observers. There are stories on galaxy hunting in Ursa Major, the Local Group of galaxies, Orion's best deep-sky objects, supernova searches, the best and most challenging planetary nebulae, low-surface-brightness challenge objects, globular clusters in Ophiuchus, and many more subjects. The authors are a who's-who of deep-sky observers of the era. They include Jim Barclay, Glenn Chaple, Steve Coe, Jeff Corder, Alan Goldstein, Phil Harrington, David Healy, Paul Hodge, David H. Levy, Jim Meketa, and Brian Skiff."
Eicher also notes, "Early issues of Telescope Making magazine are also packed with unique information. There are articles on small reflectors, constructing a Schiefspiegeler, lots on Dobsonians, reports from Riverside and Stellafane, lens-making, observatory construction, and much more. The authors form an impressive bunch: Richard Buchroeder, Bob Cox, Russ Genet, Walter Hamler, Kevin Ritschel, A. L. Woods, and Ernest B. Wright, to name a few."
You can learn more here.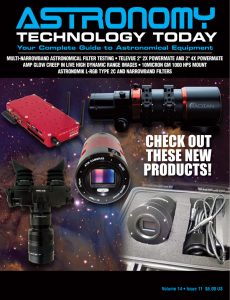 And to make it easier for you to get the most extensive news, articles and reviews that are only available in the magazine pages of Astronomy Technology Today, we are offering a 1 year magazine subscription for only $6! Or, for an even better deal, we are offering 2 years for only $9. Click here to get these deals which only will be available for a very limited time. You can also check out a free sample issue here.