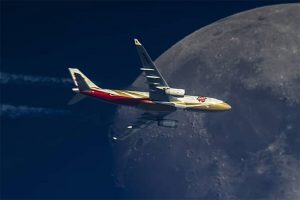 In a recent blog post, Tele Vue has pointed out a new phenomenon that is entering the amateur astronomy ranks. This new way to utilize telescopes can be seen from the growing number of close-up plane images at cruising altitude that can be found Instagram that were made using Tele Vue Powermate image amplifiers.
As they comment in the post, "In the world of plane spotting, standard telephoto and zoom lenses are employed to photograph commercial jets at or near the airport. But to turn glints of metal and white contrails at cruising altitude (30,000-ft to 42,000-ft / 9,000-m to 13,000-m) into detailed portraits requires optics beyond that. Even super telephotos used at sports events won't do for objects 8-miles in the sky! For this lofty task, many plane spotters attach their digital cameras to a Tele Vue Powermate amplifier inserted into an astronomical telescope. The resulting images are breathtaking. We see these amazing machines operating in their design environment: away from ground clutter, framed against an almost black sky."
As you can see from the attached image, the results are truly breathtaking. Check out the blog post to learn more.