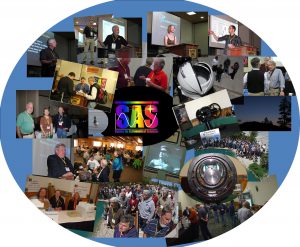 The Society for Astronomical Sciences (SAS) will hosting its 38th annual Symposium on May 30-31-June 1, 2019 in Ontario, California. This event is a joint meeting with the Center for Backyard Astrophysics. The event will be held at the Ontario Gateway Hotel.
Each year over 100 participants from North and South America, Europe, Africa and the Far East attend the event to share their interest in astronomical research. Educational and practical workshops during the Symposium provide a forum for learning, teaching, and building the skills of the community of practice in small-telescope research.
This year's event is presented as a joint meeting with the Center for Backyard Astrophysics, a global citizen-science network of small telescopes dedicated to the photometric study of cataclysmic variable stars.
The purpose of the SAS Symposium is to encourage research using small-telescope observations and amateur-professional collaborations in astronomy. Targets of interest include asteroids, solar system objects, exoplanets, variable stars, novae and supernovae, and related topics such as instrument design and characterization, and data analysis methods.
Everyone with an interest in small-telescope research is welcome — amateur astronomers, students, educators, and professional astronomers. The conference focuses on how small-telescope observations and measurements are contributing to astronomical science and provides the opportunity to learn more about photometry, astrometry, spectroscopy, CCD imaging, and the newest hardware and software techniques.
There are two educational workshops scheduled for Thursday (May 30,2019). The morning workshop is "Scientific Analysis of Amateur Spectra" conducted by Dr. David Boyd. The afternoon workshop is "Paths to Precision Photometry" by Dr. Arne Henden.  There is an "Evening with the Pro's" session on Thursday evening and two days of technical paper presentations (Friday and Saturday, May 31-July1, 2019). The closing banquet is Saturday evening.  In the Display room, the event's corporate sponsors will be showing their latest product offerings and discussing recent developments.
Papers are solicited on all aspects of astronomical science that are (or can be) pursued by observations with small telescopes (less than 1-meter aperture), such as:
– Investigations of variable stars, eclipsing binary stars, double stars and stellar systems.
– Investigations of asteroids and other solar system objects; and exoplanets.
– Progress, status, and planning for upcoming events such as the TESS follow – up initiative.
– Instrumentation for photometry, astrometry, spectroscopy, polarimetry, and fast-cadence observations (e.g. occultations).
– Investigations of atmospheric effects, light-propagation and scattering, light pollution monitoring.
– Innovative use of astronomy in undergraduate education.
The Society for Astronomical Sciences traces its roots to the International Amateur-Professional Photoelectric Photometry (IAPPP), which was formed in June, 1980. The Western Wing of the IAPPP was formed in 1998, to better support the local interest in small-telescope science. In 2002, the Western Wing was incorporated, in California, and in 2003 renamed itself the Society for Astronomical Sciences (SAS).
Members include both amateur and professional astronomers who gather data that is used by professional researchers, perform original research on a wide variety of topics, develop specialized equipment and software to support our independent research. Professional members provide guidance and encouragement and use small-telescope photometry, spectroscopy, and astrometry data in their research.
Observers are skilled in photometry (e.g. asteroids and variable stars), astrometry (e.g. asteroids and visual double stars), spectroscopy (e.g. variable stars and transient sources) and even investigating polarimetry and speckle interferometry.
The Society for Astronomical Sciences is a non-profit corporation exempt under I.R.S. Code Section 501(c)(3).