Fans of "Uncle Rod" Molisse will be glad to know that he is coming out with a second version of his popular SCT book, "Choosing and Using a New Cat: Getting the Most from Your Schmidt Cassegrain or Any Catadioptric Telescope." The book is part of Springer Publishing's "The Patrick Moore Practical Astronomy Series" and was first released in 2009.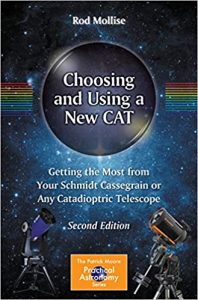 According to a recent post on Uncle Rod's website, "You asked for it! Nay, you demanded it! Well, one or two people may have mentioned something about it. I am talking about the forthcoming 2nd Edition of Unk's vaunted SCT book, Choosing and Using a New CAT. I recently recounted some of my work on it during my recovery from my accident last year – it was tough going due to your old Uncle's really dilapidated condition. But it all worked out. Overall, I am pleased indeed. It's not often you get to go back and fix those nagging issues that have bothered you for the better part of a decade (like some of my prose, and those lousy black and white photos in the First Edition)."
He continued, "I can say without reservation this is a much better book than the First Edition, and if you like that, you should really, really like this one. What's changed? Naturally, the buyer's guide chapter was almost completely rewritten thanks to a decade of changes in the telescope market. Same with the imaging chapter. And a lot of my MESS has been cleaned up elsewhere in the book. Did the publisher do some things I don't like? Sure. That's the way the game is played. But, I'm happy with the results, no ifs, ands or buts."
The book is scheduled to be available right around the same time as the publishing of this news item so the easiest way to learn when you can buy it is to check Rod's website every few days. Plus, we are glad to hear that Uncle Rod has recovered from his accident and he's back to writing lots of content so why wouldn't you want to check it out often, we do!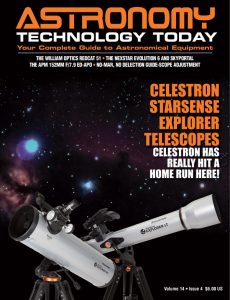 And to make it easier for you to get the most extensive news, articles and reviews that are only available in the magazine pages of Astronomy Technology Today, we are offering a 1 year magazine subscription for only $6! Or, for an even better deal, we are offering 2 years for only $9. Click here to get these deals which only will be available for a very limited time. You can also check out a free sample issue here.