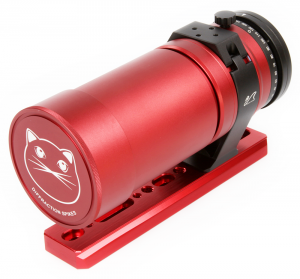 From wildlife to the night sky, the William Optics RedCat 51 is a 51 mm refractor from William Optics that is the perfect companion for the traveling photographer and astronomer.
Every time we look at a William Optics product, we marvel at the beauty of the engineering and the esthetic of the design. The team at Highpoint Scientific share the same sentiment and after reading their overview of the new William Optics RedCat 51mm Petzval APO Refractor we knew that we should share it with our readers.
With an aperture of 51mm, a focal length of 250mm and a fast f/4.9 focal ratio, it is lightweight and easy to transport!
The RedCat comes with 48 mm threads, so it compatible with a variety of wide Canon to Nikon, Sony E to Pentax, or Micro 4/3 T-mounts. This Cat Series refractor also has a camera sensor tilt adjuster to help you get those great images.
You can also put a diagonal and eyepiece on the back for spectacularly sharp, high contrast images of both terrestrial and celestial targets. The RedCat mounts on a photographic tripod or an equatorial mount with the reversible base that has Arco-Swiss mounting on one side and a standard Vixen dovetail on the other. That's just the beginning, though! Check out all the features of this flexible APO refractor that can do triple duty as a camera lens, a spotting scope, or a telescope:
Amazing Optics
The William Optics RedCat 51 sports optics made of Ohara FPL53 & FPL51 synthetic fluorite glass for beautiful high contrast, spectacularly sharp results when used in both visual and photographic applications. APO performance means you'll have virtually zero chromatic aberration. The Petzval design, which consists of four elements in three groups, also known as a Quad, produces a full frame flat field, with a image circle of 44mm.
Thoughtful and Innovative Design
Let's start at the front and work our way back! The RedCat body is made of a strong aluminum alloy and is anodized a beautiful red for strength and durability. A matching dew/sun shield can be attached when needed and then inverted to store the lens without the additional length the dew shield provides. An aluminum threaded cap protects the optics whenever the RedCat is not in use.
In the middle of the RedCat 51, you will find a nicely designed ring mount that attaches to the reversible base and wraps securely around the body of the lens. A red anodized knob allows you to loosen the ring enough to fully rotate the RedCat 51, and of course, it is also used to lock the ring in place. The "ring" has a flat section that has two 1/4-20 holes spaced far enough to allow the addition of a red dot finder, microphone, or other compatible accessories.
Calibrated Helical Focuser with 360-Degree Rotator
The helical focuser with a focusing index on the RedCat has a focus tension ring that allows you to lock focus or just increase or decrease the drag to your liking. A field rotator is included with this 250 mm lens as well, and every degree is plainly marked…all 360 of them! William Optics says they were inspired by luxury watches when they designed this rotator, but what it means to you is mosaics of large celestial objects or sections of the sky will be much easier!
A filter slot is built into the OTA just after the rotator and accepts 48 mm filters, and the back of the RedCat is fitted with M48 threads. Attach a full-frame (M48) M 4/3, Nikon, Canon, Sony, or Pentax T-ring to the threads and use your DSLR to produce beautiful images. Or, attach a diagonal and eyepiece and turn this 250mm f/4.9 beauty into a telescope or spotting scope.
Includes These Accessories
You will also receive a Bahtinov Mask for focusing assistance during astrophotography (that might give you a hint as to why the Cat's whiskers look like they do…just look at the threaded cap), the M48 camera mount (T-ring mentioned above not included) and a soft carry case. Aluminum covers are also included for the front and back of the telescope.
William Optics RedCat 51mm Petzval APO Refractor Telescope Specs:
– Telescope Series: William Optics RedCat
– Optical Design: Refractor
– Refractor Design: Apochromat (APO)
– Number of Refractor Elements: 4
– Aperture: 2″ (51 mm)
– Focal Ratio: f/4.9
– Focal Length: 250 mm
– Focuser Style: Helical
– OTA Length – Retracted: 8.3″ (210 mm)
– OTA Weight: 2.9 lb.
– Image Circle Size: 44 mm
To learn more about the RedCat 51mm Petzval APO Refractor visit the William Optics website.
And to read a great review on how William Optics scopes perform, check out this article by Astronomy Technology Today contributor Dr. James Dire.