The ZWO 5V EAF is the latest iteration of the ZWO EAF (Electric Automatic Focuser). The 5V EAF is an upgraded version of the original ZWO EAF electronic focuser which enables precise, dynamic focus control for planetary and deep-sky imaging.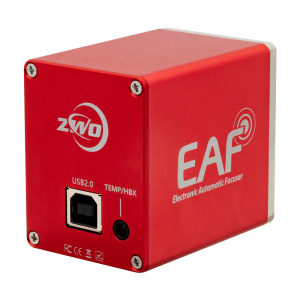 Compared to its previous version, the main change of ZWO 5V EAF is the elimination of the 12V power supply port. Now you can directly connect the EAF to your camera, laptop or ASIAIR PRO via the USB 2.0 port & cable for both data transmission and power supply. This not only make the cable management much easier, but also effectively reduce the supply pressure.
There are two variants of the ZWO 5V EAF:
– Standard Version: EAF body, flexible coupling, motor bracket, USB2.0 cable.
– Advanced Version: EAF body, flexible coupling, motor bracket, USB2.0 cable, hand controller, temperature sensor.
The ZWO 5V EAF works with all capture software that is supported by the ASCOM platform. When used with a ZWO ASIAIR Wi-Fi imaging and control system – not included with the EAF package – users have the ability to conduct entire imaging sessions with a smartphone or tablet.
The body of the EAF is made with an all-metal, red housing unit matching ZWO astronomy cameras.
Features and specifications include:
– Highly integrated design
– Supports the ASCOM platform and various ASCOM-compatible third-party software
– Supports the Instrument Neutral Distributed Interface (INDI), a distributed control system (DCS) protocol for astronomy imaging which enables control, data acquisition and exchange among hardware devices and software front ends
– Supports original software such as ASIAIR and ASICAP
– Supports automatic focusing
– Supports handle controller and manual focusing
– USB HID device and drive-free
– Stable and durable
– Size: 60mm x 50mm x 40mm
– Step Motor: 5,760 steps to rotate the circle
– Data Port: USB2.0 port
– Size: 59mm x 52mm x 41mm
– Motor: Step motor, 35mm diameter, 7.5° step angle
– Reduction ratio: 120
– Weight: 277g
– Capacity: 5kg
– Material: All-metal
– Color: Red
You can learn more at about the ZWO 5V EAF here.