Now available from ZWO dealers is the ZWO ASIAIR Mini Camera Kit for Astroimaging which offers the ZWO ASIAIR Pro Wi-Fi Camera Controller and ASI120MM providing the ability to turn your smartphone into an imaging powerhouse.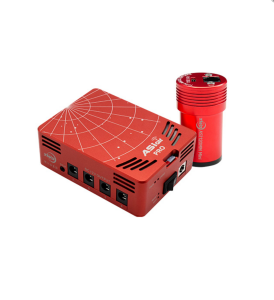 The kit includes the ASI120MM Mini Camera, which offers a compact, powerful, high-quality monochrome guide camera that is well-suited for both planetary imaging and guiding. When packaged with the ASIAIR Pro, users get effortless wireless guiding, imaging, and countless other imaging tasks.
The ZWO ASIAIR Pro bundle is designed to make your astro-imaging experience as smooth as possible providing the ability to control your entire astronomy setup from your phone with the ZWO ASIAIR App for Android and iOS.
The kit consists of the ZWO ASIAIR Pro Wi-Fi Camera Controller for ZWO ASI Cameras and the ZWO ASI120MM-MINI 1.2 MP CMOS Monochrome Astronomy Camera with USB.
Here is a rundown of each product:
ZWO ASI120MM Mini Monochrome Imaging Camera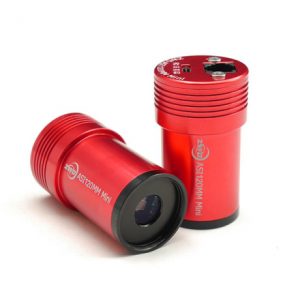 ZWO's ASI120MM Mini Camera features a 1/3″ AR0130CS monochrome sensor with 3.75 µm square pixels in a 1280 x 960 pixel array. It enables 12-Bit ADC with a peak QE of approximately 75%.
With high dynamic range, AR protective window, low read noise, 75% peak QE, and much more, the ZWO ASI120 Monochrome Mini provides exemplary planetary imaging and guiding capabilities.
The ZWO Mini offers one USB2.0 type C port. Type C ports are ideal for smartphones as the positive and negative sides of the adapter are not important. The ST4 port connects the ASI120 Mini directly to the mount's autoguiding port.
ZWO ASI120MM Mini Mono CMOS camera specifications include:
– Sensor: 1/3″ AR0130CS CMOS
– Resolution: 1.2 MP
– Pixel Size: 3.75 µm x 3.75 µm
– Pixel Array: 1280 x 960
– Minimum Exposure: 64 µs
– Maximum Exposure: 1000 seconds
– ROI: Supported
– ST4 Guide Port: Yes
– Focus Distance to Sensor: 8.5 mm
– Shutter Type: Rolling
– Protect Window: AR coated
– Interface: USB 2.0
– Bit Rate: 12bit output (12bit ADC)
– Adapter: 1.25″ M28.5×0.6
– Dimensions: 36 mm x 61 mm
– Weight: 60 g (3.1 oz.)
– Working Temperature: -5ºC – 45ºC
– Storage Temperature: -20ºC – 60ºC
– Working Relative Humidity: 20% – 80%
– Storage Relative Humidity: 20% – 95%
– Operating System Compatibility: Mac, Windows, Linux
ZWO ASIAIR Pro
Packaging the ZWO ASIAIR Pro Wi-Fi Camera Controller with the ASI120MM Mini offers a complete wireless camera control solution.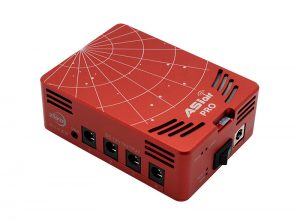 The ZWO ASIAIR Pro is a smart Wi-Fi device that allows you to control all ASI USB 3.0 cameras, ASI Miniseries cameras and an equatorial mount. With this device, you can plate solve, autoguide, sequence, and capture deep space images with your phone or tablet. The controller operates as a smart dual-band Wi-Fi device so that you can choose the best bandwidth (5G or 2.4G) for your location.
The ZWO ASIAIR Pro was released at the end of 2019 is an evolution of the original ASIAIR controller offering a number of new features. Both units are Raspberry Pi based systems with the original version operating the Pi3 CPU and the new Pro version operating Pi4.
The Pro version offers improvements on the controller and expands its ability to sequence, plate solve, auto guide, and capture images while providing an easy to use and seamlessly integrated live preview and focus mode. The ASIAIR also offers white balance and debayer color images and all through the control of a Wi-Fi enabled phone or tablet. Users can achieve perfect focus by zooming in on a smaller section of the camera image and using the provided half flux graph and switch easily between automatic and manual stetching so you can get the best, fine detail out of your deep sky or planetary imaging.
The camera controller also allows users to independently autoguide and capture images. The ASIAIR app is compatible with Apple iOS 9.0 on the iPhone series 6, 7, 8 and X or the iPad and iPad Pro as well as with Android devices running OS 5.0 or higher on any Android device or tablet. The app also talks to the SkySafari app allowing the ability to plate solve within ASIAIR and sync mount position.
The ZWO ASIAIR Pro includes 4 USB 2.0 ports to connect devices include an EQ mount. The new Pro version offers 64GB of built in space and a 64GB flash drive giving a total storage of 128GB. The PI4 has 4GB of RAM and the new Pi4 CPU is 30% faster than Pi3. The upgraded unit is housed in a CNC milled aircraft grade aluminum housing. The housing mount design allows it to be installed on the finder foot and the finder/guidescope can mount on the ASIAIR Pro. The new version offers a DSLR shutter control line to control the snap socket on many cameras and will support all the latest cameras and devices such as EAF.
Included with the ZWO ASIAIR Pro is the following:
– ZWO ASIAIR Pro Body
– Two DC 1m Male Cables
– USB Memory Stick
– DC 1.5m Male-Female Extension Cable
– Two DC 0.5m Male Cables
– Quick Start Guide
– USB-RS232 Female Convert Cable
– USB3.00.75m Type-B Data Cable
You can learn about the ZWO ASIAIR Pro Wi-Fi Camera Controller and ASI120MM Mini Camera Kit more at the ZWO website.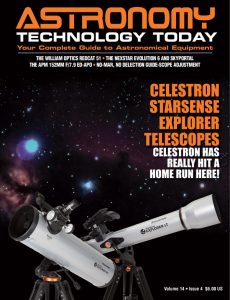 And to make it easier for you to get the most extensive news, articles and reviews that are only available in the magazine pages of Astronomy Technology Today, we are offering a 1 year magazine subscription for only $6! Or, for an even better deal, we are offering 2 years for only $9. Click here to get these deals which only will be available for a very limited time. You can also check out a free sample issue here.