The Coronado SolarMax III Blocking Filter is a right angle (diagonal) type Hydrogen-alpha blocking filter, now in the SolarMax III design. This updated design includes a long 2″ diameter nosepiece with 1.25″ eyepiece holder and t-thread connection. It is available in BF10, BF15 and BF30 models.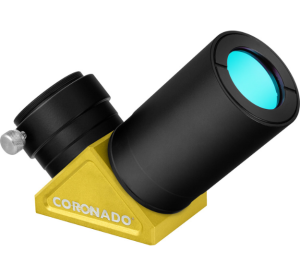 The blocking filter is the second element in any Coronado H-alpha system and is just as crucial to the safety and the system's performance as the primary SolarMax etalon filter. Note this blocking filter cannot be used without a SolarMax etalon in front of the telescope front aperture.
Each model comes with a long 2″ diameter nosepiece with 1.25″ eyepiece holder and t-thread. The BF30 can additionally convert to straight through mode with its included 2″ straight through adapter for more versatility with cameras and other 2″ accessories.
Each Coronado SolarMax III Blocking Filter model BF number represents the clear aperture window that passes the Hydrogen-alpha light to the eyepiece or camera sensor. As you go from lower BF numbers, such as the BF15 to a higher number like the BF30, you get more performance.
For example, the BF30 offers a 30mm window that is wider than the 15mm window in the BF15, and thus it provides a wider unvignetted field of view around the Sun. This will allow wider apparent field of view eyepieces, higher magnification, and larger camera sensors to see an unvignetted view compared with the smaller blocking filters such as the BF10 or BF15.
The BF10 blocking filter is designed for a full disc image of the Sun for telescopes up to 1,000mm focal length. The BF15 is for a full disc image of the Sun for telescopes up to 1,500mm focal length. The BF30 blocking filter is filter for a full disc image of the Sun for telescopes up to 3,000mm focal length.
You can learn more about the Coronado SolarMax III Blocking Filter here.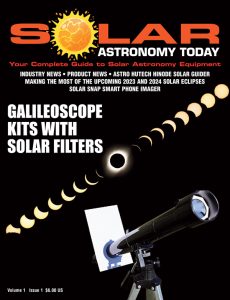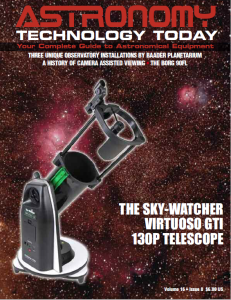 The Sun is more active than it's been in years and if that's not enough, we have the Annular Solar Eclipse on October 14, 2023 and the Total Solar Eclipse on April 8, 2024! If you'd like to learn more about the technology behind solar observing, solar imaging and more, you can check out our new monthly magazine – Solar Astronomy Today. It's free to read, no subscription needed and available here. And if you are preparing for the upcoming eclipses and want to know your equipment options from solar glasses to the most out of this world solar viewing and imaging options, check out our free publication – The Definitive Guide to Viewing and Imaging the Sun  – simply click here and enjoy reading!
And to make it easier for you to get the most extensive news, articles and reviews that are only available in the magazine pages of Astronomy Technology Today, we are offering a 1-year magazine subscription for only $6! Or, for an even better deal, we are offering 2 years for only $9. Click here to get these deals which only will be available for a very limited time. You can also check out a free sample issue here.