Written for the first-time solar eclipse viewer, the 2017 Great American Solar Eclipse Primer offers topics and tips on viewing and imaging the eclipse without a telescope. The book was written by Anthony Galvan III (Tony) whose photographs and technical illustrations have been published by Astronomy and Sky & Telescope magazines.
In the publication, he demonstrates how you don't need a telescope and mount to image the eclipse. Included in this introductory edition are tips on how to image a total solar eclipse, basic equipment needed for safe solar viewing and an overview of what to expect during the total solar eclipse on August 21, 2017.
The eBook is priced at $4.99 and is available on Amazon here.
###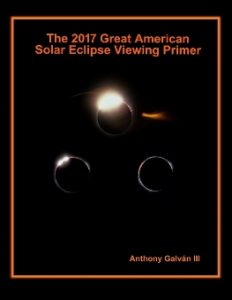 The Astronomy Technology Today editorial staff would like to take this opportunity to remind you of the availability of our Solar eclipse equipment guide  – The Definitive Equipment Guide to the 2017 Solar Eclipse.  Our goal with the 40 page publication is to provide an easy-to-consume introduction to the technological options for viewing and imaging the Great Solar Eclipse. We cover the gamut of options available including building your own solar viewer, solar glasses, smart phones, DSLR cameras, using astronomy telescopes, solar telescopes, using binoculars, solar filters (including a DYI filter option), CCD astro cameras, astro video cameras, webcams and much more. You can view the guide on our website here – its free and there is no requirement to sign up to read the guide.