To help plan on how to capture solar eclipse images, astronomer and eclipse chaser Alan Dyer has published How to Photograph the Solar Eclipses, a comprehensive 350-page guide to photographing both the recent October 14, 2023 annular solar eclipse and the April 8, 2024 total solar eclipse.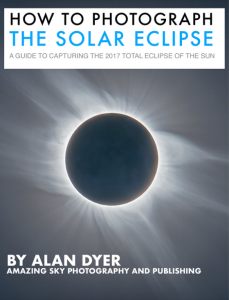 Dyer has announced that he has updated the book to include his experience with photographing the October 14, 2023 annular solar eclipse. As he notes about the updates, " I've prepared a new version of my eclipse ebook, post-annular, to change the planning pages for the 2023 annular in Chapter 4 to "lessons learned," and add tutorials in Chapter 11 on processing about assembling annular composites. There are other minor updates throughout, even for the 2024 eclipse, such as filter tests and tips on using smartscopes."
How to Photograph the Solar Eclipses provides detailed advice and instruction for capturing eclipses using a variety of techniques, from simple to complex, in still images, time-lapses, and video. Alan covers a wide range of options, from grabbing easy images and videos with phone cameras, to shooting still images and videos with DSLRs and mirrorless cameras and planning demanding time-lapses and composites.
The book provides tips on choosing cameras, lenses, and tripods, and on using telescope mounts to track the Sun. Focal lengths, filters, exposures, ISO settings, focusing, video resolutions – it's all covered in 12 chapters.
How to Photograph the Solar Eclipses includes an entire chapter that deals with "what can go wrong!" and how to avoid the most common mistakes. Another chapter contains step-by-step tutorials on how to process eclipse images, from simple wide-angle shots to time-lapses, and multi-exposure image stacks.
The 350-page ebook is available in identical editions from two sources – Apple Books and a PDF download format. For the Apple Books version, users of Apple devices who purchase the book will have automatic syncing and downloading to all Apple devices including the Apple Books app for Macs or iPads (The author notes that the ebook is best viewed on an iPad). The list price is $10.99US and the price can vary by country.
The PDF version is designed for users of all other devices, including Windows and Android. The downloaded PDF provides the ability to manually transfer the ebook to any device you wish to use for viewing in any PDF reader software. As a note, Apple users are free to choose the PDF version if they prefer, but they may find navigation of the book is easier with the Apple Books edition. The cost of the PDF version is $10.99US.
In addition to publishing How to Photograph the Solar Eclipses, Dyer has authored How to Photograph and Process Nightscapes and Time-Lapses, a 550-page ebook available at the Apple iBook Store. He has also authored several children's book on space, notably Insiders: Space and Mission to the Moon, both for Simon and Schuster. A children's book about Stars was published in 2011.
He has also co-authored several bestselling print guidebooks for amateur astronomers, including, with Terence Dickinson, The Backyard Astronomer's Guide, available in a hugely revised Fourth Edition published in 2021 (Firefly Books). He also contributed sections to National Geographic's Backyard Guide to the Night Sky.
He is well-known as an astronomy writer, particularly in his roles as a contributing editor to SkyNews magazine and as a contributing editor to Sky and Telescope magazine, writing reviews of equipment.
Alan's astrophotos have been featured on Spaceweather.com, APOD Astronomy Picture of the Day, the Weather Channel, NBCNews.com, CBSNews.com, Earth&Sky, UniverseToday, The  Guardian, and in National Geographic magazine, and many other magazines and calendars.
Alan recently retired from many years as a writer and producer of planetarium shows, most recently for the TELUS Spark Science Centre in Calgary. Over some 30 years of producing planetarium shows, his programs have played across Canada and in theatres in the U.S.
He is a frequent guest expert on local and national news media. As an amateur astronomer, his interests include astrophotography and deep-sky observing and he compiled some of the popular deep-sky observing lists in the annual RASC Observer's Handbook.
As he notes, "I take the opportunity as often as possible to visit the southern hemisphere to pursue both observing and photography under southern skies. My other obsession, eclipse chasing, has taken me to every continent, chalking up 16 total solar eclipses – #16 was in Idaho, on August 21, 2017. And Asteroid 78434 is named for me – very nice!"
You can learn more about the How to Photograph the Solar Eclipses ebook here.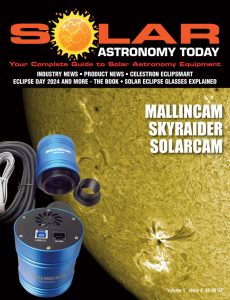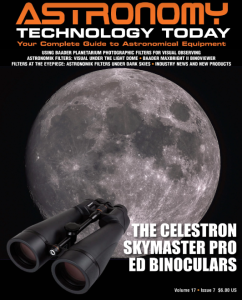 The Sun is more active than it's been in years and if that's not enough, we have the Annular Solar Eclipse on October 14, 2023 and the Total Solar Eclipse on April 8, 2024! If you'd like to learn more about the technology behind solar observing, solar imaging and more, you can check out our new monthly magazine – Solar Astronomy Today. It's free to read, no subscription needed and available here. And if you are preparing for the upcoming eclipses and want to know your equipment options from solar glasses to the most out of this world solar viewing and imaging options, check out our free publication – The Definitive Guide to Viewing and Imaging the Sun  – simply click here and enjoy reading!
And to make it easier for you to get the most extensive news, articles and reviews that are only available in the magazine pages of Astronomy Technology Today, we are offering a 1-year magazine subscription for only $6! Or, for an even better deal, we are offering 2 years for only $9. Click here to get these deals which only will be available for a very limited time. You can also check out a free sample issue here.