Some of us are lucky enough to live close to, or even better, in the direct path of the area of totality for the Great Solar Eclipse. Those of us that aren't so lucky will need to travel to view totality. Communities across the nation are going all out putting together a wide variety of activities to package with the eclipse.
And while many of what can be considered the most desirable locations may already be booked for months, don't give up on them. Cancellations happen all the time and if you keep checking you may just luck into that dream total solar eclipse destination.
Interesting Destinations
Like wine? Willamette Valley Vineyards in Turner, Oregon, is planning an eclipse viewing party with wine tasting, live music, cellar and vineyard tours, lawn games, and Pacific Northwest cuisine.
Into baseball? Keizer, Oregon's minor league baseball team, the Salem-Keizer Volcanoes, will host a three-game brewfest culminating in a morning game that will feature the first ever "eclipse delay" in baseball history.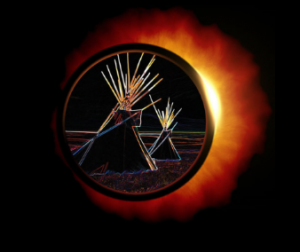 If you like to wager, The Wind River Hotel & Casino on the Wind River Indian Reservation in Wyoming is inviting visitors to enjoy their casino gaming experience as well as a cultural experience featuring native Arapaho music, dance, storytelling, eclipse presentations, and star parties.
The cowboy in you will enjoy Tryon, Nebraska's "western adventure" for eclipse viewers including a petting zoo, vendors, live music, wagon rides, ranch tours, and an official viewing site.
A week-long "Global Eclipse Gathering" will offer a counter-culture festival in the Ochoco National Forest near Prineville, Oregon, with live music, workshops, art installations, food, a kid's camp, a marketplace bazaar, "art boats," yoga and movement classes, "live painting," circus acts and theatrical performances, "healers," and RV/tent camping. ASTROCON, the annual national convention of the Astronomical League, will take place in Casper, Wyoming during the eclipse. You'll find professional and amateurs astronomers mixing with the general public to provide an immersive astronomy centric experience.
ASTROCON, the annual national convention of the Astronomical League, will take place in Casper, Wyoming during the eclipse. You'll find professional and amateurs astronomers mixing with the general public to provide an immersive astronomy centric experience.
Go Big In Nashville

The largest metropolitan area in the path of totality is Nashville, Tennessee, which will host the Music City Solar Eclipse. The three-day science festival will be held at multiple locations throughout downtown Nashville and along the riverfront. The festival will feature live music, daily and nightly star parties with big screen projections of the Sun and planets, workshops, and prizes.
Astronomy Technology Today Executive Editor Gary Parkerson will be in Nashville and participating in several events including a "solar" bike ride. Gary's participation in the festivities will be the culmination of a two year, 10,000-mile project to visit all lower 48 states to generate awareness of amateur astronomy and the viability of cycling for transportation. The Pedaling Astronomer project has been an educational effort to generate awareness and to promote: (1) the hobby of amateur astronomy and (2) the viability of cycling as a practical form of transportation.
Solar Eclipse Viewing and Imaging Equipment Guide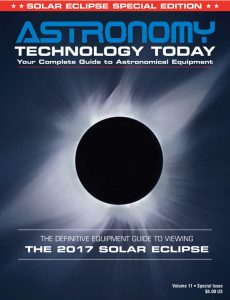 Wherever you are, you'll want to make sure you ready to view or image the event. The Astronomy Technology Today editorial staff would like to take this opportunity to remind you of the availability of our Solar eclipse equipment guide  – The Definitive Equipment Guide to the 2017 Solar Eclipse.  Our goal with the 40-page publication is to provide an easy-to-consume introduction to the technological options for viewing and imaging the Great Solar Eclipse.
We cover the gamut of options available including building your own solar viewer, solar glasses, smart phones, DSLR cameras, using astronomy telescopes, solar telescopes, using binoculars, solar filters (including a DYI filter option), CCD astro cameras, astro video cameras, webcams and much more. You can view the guide on our website here – its free and there is no requirement to sign up to read the guide.
Solar Eclipse Travel Resources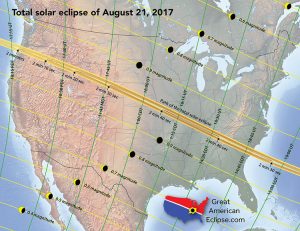 – The Great American Eclipse: The folks at the Great American Eclipse website have put together a stellar collection of maps detailing the path of the Eclipse. It's an invaluable resource to help evaluate your eclipse travel plans. Due to the uniqueness of the path of the eclipse, many people living in the continental US will have a drive of less than 8 hours to totality. These maps also help with flight plans as you can choose a major city to fly in/out of that provides advantageous pricing. Take an extended weekend and do some sightseeing before the big event! Click here to access the maps.
–  NationalEclipse.com: The website NationalEclipse.com hosts one of the most comprehensive databases of eclipse events which are categorized by state. The information provided includes the event organizer, dates, locations, times and a brief paragraph about the event.
– Eclipse2017.org: This website takes you step-by-step with the best locations to view the eclipse by each state.
– American Astronomical Society: The Society has released a stand-alone website providing advice on eclipse tours, cruises, camping, community festivals, and other travel opportunities.
– Space.com – Offers travel advice specifically targeted on eclipse totality for each state.
A Couple of Cool Videos!
See the 2017 Solar Eclipse by Plane
One of the most unusual ways to view the eclipse is on an airplane. Because the path of totality travels across the breadth of the US, there will be numerous flights that will provide unparalleled views of the eclipse. If you are planning travel on that day, you might want to plan a flight through totality! Check out this video of an actual solar eclipse seen by on a 2016 Alaska Airline flight.
Simulated Flyover of the Path of the August 2017 Solar Eclipse
Eclipse2017.org has created a super cool video which uses the latest calculations of the path of the August 2017 Solar Eclipse, combined with Google Earth, to create a "fly-along" with the moon's shadow as it travels over the face of the USA in 2017.  Eclipse2017.org has provided bookmarks within the video, so you can skip right to areas that may be meaningful to you