The Lunt 40mm Solar Telescope is the newest, smallest and most portable of the company's dedicated solar telescope line. This grab and go hydrogen alpha telescope will deliver excellent views for years to come.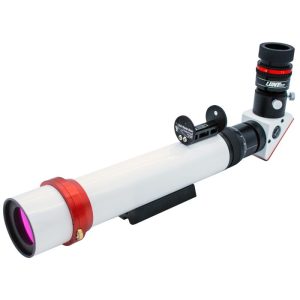 The Lunt 40mm Solar Telescope provides the basic essentials that are perfect for a first-time introduction to solar observing. An easily portable and usable dedicated hydrogen alpha telescope, the Lunt 40mm F/10 system is sure to impress allowing both beginning and seasoned amateur astronomers to experience the amazing phenomena of our closest star.
Easily portable and easy to use, the Lunt 40mm joins the Lunt telescope line up as the company's smallest aperture offering, while providing the power, detail and quality you expect from a Lunt Telescope – all in a nice ~4.0mm Solar Image Size.
The Lunt 40mm hydrogen alpha telescope includes a non-rotating helical focuser (upgradeable to a Feather Touch focuser), integrated Vixen style dovetail, and built-in TeleVue Sol Searcher Sun finder. Available blocking filters include B500 (5mm), the B600 (6mm) or B1200 (12mm).
Lunt 40mm Solar Telescope Specifications include:
– Telescope Type: Dedicated H-alpha
– Universal Capabilities: H-alpha
– Aperture: 40 mm
– Objective Type: Custom Doublet Optimized at 656 nm
– Objective Coating: Ion Assist Ultra-Narrowband AR (656 nm)
– Focal Ratio: F/10
– Focal Length: 400 mm
– Focuser Options: Helical or Feather Touch
– Mounting: Mounting Foot
– Storage: Box with Fitted Foam, Hard Case Optional
– H-alpha Etalon Type: Internal Dedicated
– Etalon Wavelength: 656.28 nm
– Etalon Bandpass: <0.7 Å Single Stack, <0.5 Å Double Stack
– Etalon Material: UV Grade Fused Silica
– Etalon Tuning: Tilt
– Doppler Shifting: Instant
– Blocking Filter Size: 5 mm, 6 mm, 12 mm, Diagonal
– Blocking Filter Bandpass: 6 Å
– Sun Finder: TeleVue Sol Searcher built in
– Weight of Telescope: 2.8lbs
– Color: Pearl White with Black and Red accents
You can learn more about the Lunt 40mm Solar Telescope and about solar observing and imaging at the Lunt website.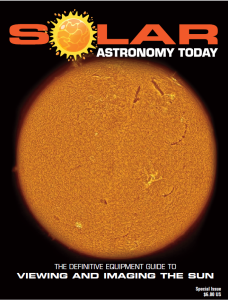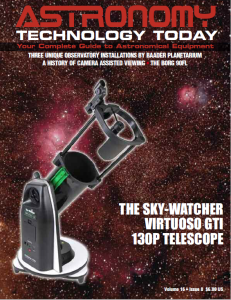 The sun is more active than its been in years! If you'd like to learn more about the technology behind solar observing, solar imaging and more, you can check out our free publication, "The Definitive Guide to Viewing and Imaging the Sun". You don't have to sign up or provide any information, simply click here and enjoy reading!
And if you want to learn more about telescopes and more products used in amateur astronomy you will enjoy the extensive news, articles and reviews that are only available in the magazine pages of Astronomy Technology Today. We are offering a 1-year magazine subscription for only $6! Or, for an even better deal, we are offering 2 years for only $9. Click here to get these deals which only will be available for a very limited time. You can also check out a free sample issue here.