Lunt Solar Eclipse Glasses feature premium solar filters that eliminate the harmful effect of ultraviolet, infrared, and intense visible light rays – creating a sharp, orange-colored image of the Sun. The full lineup of Lunt Solar Eclipse Glasses are completely safe for viewing the Sun and the upcoming "Ring of Fire" solar eclipse in October 14, 2023 and the "Great American II" solar eclipse on April 8, 2024.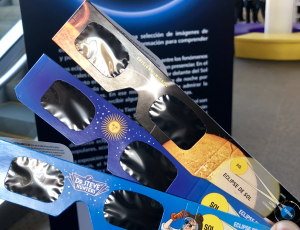 Lunt Solar Eclipse Glasses are manufactured in Germany. They provide 100% protection for direct viewing of the Sun as they filter out 100% of harmful ultra-violet, 100% of harmful infrared, and 99.999% of intense visible light and have been approved by NASA and the American Astronomical Society.
The backside is printed with safety information and the frames are heavy card stock. Tested to meet the international standard, the Lunt Solar Eclipse Glasses are ISO Certified [ISO 12312-2 (2015)] which provides absolute guarantee for your eye safety. Additionally, they are CE certified and meet the transmission requirements of scale 12-16 of EN 169/1992.
Lunt Solar Eclipse Glasses are available in 5-Pack and 10 Pack sets. The solar eclipse glasses are also available in in a "Junior Eclipse Set" of 4 packs and 10 packs which provide smaller sized eclipse glasses for little ones ages 7-13 years of age. With adult supervision, these junior eclipse glasses are perfect for budding scientists, astronomers and any child who wants to be a part of the excitement of these rare events.
Lunt Solar Eclipse Glasses are also available in bulk units with 50 and 100 unit packages available and higher quantities up through 6400 unit quantity. Lunt also offers Spanish language eclipse glasses. The company also offers discounts for educational and nonprofit organizations.
You can learn more about the Lunt Solar Eclipse Glasses here.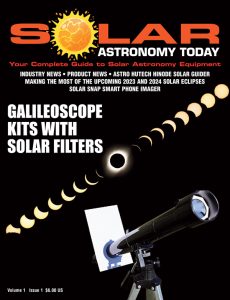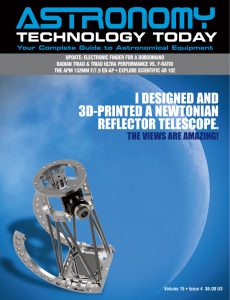 The Sun is more active than it's been in years and if that's not enough, we have the Annular Solar Eclipse on October 14, 2023 and the Total Solar Eclipse on April 8, 2024! If you'd like to learn more about the technology behind solar observing, solar imaging and more, you can check out our new monthly magazine – Solar Astronomy Today. It's free to read, no subscription needed and available here. And if you are preparing for the upcoming eclipses and want to know your equipment options from solar glasses to the most out of this world solar viewing and imaging options, check out our free publication – The Definitive Guide to Viewing and Imaging the Sun  – simply click here and enjoy reading!
And to make it easier for you to get the most extensive news, articles and reviews that are only available in the magazine pages of Astronomy Technology Today, we are offering a 1-year magazine subscription for only $6! Or, for an even better deal, we are offering 2 years for only $9. Click here to get these deals which only will be available for a very limited time. You can also check out a free sample issue here.