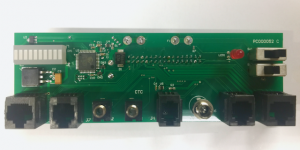 The Meade LX200 Boot-Up Emulator from Clearline Technology Corporation is part of a line of products made using modern materials, components, and processes to create replacement parts for the venerable Meade Instruments LX-200 telescope. Among its current lineup are the Motor Encoder Board – LX200 Classic/LXD650/LXD750; Calibration Tool for LX200 Motor Encoder Board; and a Boot-Up Emulator for the Meade LX200 Hand Controller.
A new addition to its product offering is its Power Panel PC Board for the Meade LX200 Classic. This is a replacement for the PC board behind the LX200 Power Panel. It is a newly designed circuit board replacement for the original in the 8″, 10″, and 12″ Meade LX200 "Classic" telescopes.
This circuit improves on the original by using a high-side current measurement approach that does not put additional resistance in the ground path. It will also emulate the Hand Controller boot sequence, if no hand controller is present.
The company also has several new repair parts and replacement kits for the For the 8″, 10″, and 12″ LX200 Classic telescopes (these may also fit the LXD750/LXD650 mounts). These include:
– IR Component Scaffolds: Pre-tested assemblies, with wiring harness and PC boards, mounting two IR LEDs and two IR phototransistors, replacing the parts originally provided on one RA or DEC motor encoder housing. These help make replacement easier and avoid stress on leads. Sold as a set.
– Replacement Capacitor Kit: Set of 6 electrolytic capacitors to replace 5 original 25V tantalum capacitors (one extra). The capacitors are 6.8 uF, rated at 50V. Includes brief instructions.
– Replacement Optical Components: Set of IR LEDs with the corresponding phototransistors. These replace the optical components in the RA and DEC motor encoders. Includes 4 ea. Ligitek LIR2043, and 4 ea. Ligitek LPT2023, enough for both motor assemblies.