In mid-July, Montana's awe-inspiring night sky will be center stage at the Montana Learning Center's inaugural Big Sky Star Festival. The two-night and three-day event, this coming July 17, 18 and 19, will be held at the Montana Learning Center's campus at Canyon Ferry Lake, near Helena, Montana.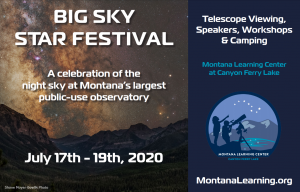 Astronomy experts from across the nation will be there to share expertise and experiences. The highlight of each evening will be the viewing of planets, galaxies and nebulae through the Montana Learning Center's 25-inch telescope.
"As home to the largest public-use observatory in Montana, we are thrilled to be offering this opportunity to bring people from all walks of life together to celebrate the beauty of the night sky," said Ryan Hannahoe, Executive Director of the Montana Learning Center.
"Attendees will hear from renowned speakers during the day and then enjoy Big Sky Country's nighttime beauty at the Learning Center's observatories. Our 25-inch aperture telescope will excite viewers visually as they observe galaxies and nebulae in brilliant color and detail. Our 14-inch robotic telescope will allow them to see the night sky photographically."
"The Big Sky Star Festival will showcase a new, rising star in astronomy: the state-of-the-art Mike and Lynn Rice Astronomical Park," said Peter Detterline, a past director of the Boyertown Planetarium in Pennsylvania, who will be speaking at the Star Festival.
"There will be something astronomical here for everyone, at any experience level, as they join together to celebrate and witness the wonders of the night sky," he added.
"The Big Sky Star Festival is a wonderful way to engage people and families of all types and develop their curiosity about our natural world," said Angela Des Jardins, director of the Montana Space Grant Consortium and Montana NASA EPSCoR (Established Program to Stimulate Competitive Research), who also will be presenting a talk at the Star Festival. "At a time when inspiring young people to get into the science, technology, engineering and math fields is more important than ever, the Big Sky Star Festival offers a special opportunity for youth and adults to learn about and access dark skies and telescopes at a fun location at Canyon Ferry Lake."
All events and meals will take place on the Center's campus at Canyon Ferry Lake. Festival attendees can opt to stay overnight in the Center's historic, late 1940's cottages, which provide a comfortable and peaceful setting for about 100 people, with both shared spaces and private rooms available. Camping space will be available on the Center's campus, in addition to the campsites around Canyon Ferry Lake managed by the federal Bureau of Reclamation. Additional accommodations are available in Helena, Montana's capital, which is about a 30-minute drive from the Montana Learning Center campus.