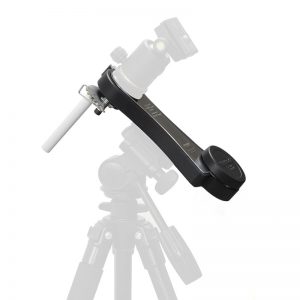 Omegon MiniTrack NS LX2 Mount is a simple mount offering big opportunities for wide-angle astrophotography on the go. Its simply simple with no batteries offering an ultra-lightweight, ultra-small thus an ultra-portable mount. The team at Highpoint Scientific agree and offer these thoughts on the mount:
If you are a traveling astrophotographer who loves imaging the northern and southern hemispheres, then this is the mount for you. The Omegon MiniTrack almost completely guarantees successful astrophotography sessions when wide-angle and lightweight telescope lenses are used.
This compact Omegon MiniTrack LX2 Mount can travel with you anywhere! It works without batteries, and its compact size and lightweight aluminum makeup mean that it can fit in almost any pocket. The photos taken with the help of this mount are sure to wow even the most experienced astrophotographers.
The Mount You Can Take on the Go
Why stop at taking vacation photos of the family and the spectacular terrestrial sights? Sometimes, some of the most stunning vacation views are directly above us. As long as you have a camera tripod and a camera that weighs no more than 4.4lbs, then the Omegon MiniTrack mount will help you capture those incredible celestial moments. This mount gives you the bare essentials, meaning that the creation of good astronomy images is completely under your control.
Clockwork Tracking
The MiniTrack mount from Omegon works by using a clockwork heart. Electronics are a no-go for this mount. It kicks back to the basic mechanics of night sky tracking, meaning there is no need to search for a power source when using the mount. All astrophotographers have to do is wind-up the cord, like an analog clock, and the mount will click into action with precision tracking for your camera. This tracking will continue for 60-minutes. Omegon has made sure that, even in freezing conditions, the mount will never flag.
The Spring System
This mount has a built-in spring system that takes away the need for counterweights. Why? Well, the spring system supports the weight of the camera and manages the tracking mechanism that tracks the camera. With no need for an accessory like a counterweight, this mount becomes the perfect grab-and-go mount for quick trips or trips that would be made difficult if carrying heavy accessories around.
Finding Polaris
In order to successfully operate this mount, the mount must point to Polaris. The name for this is "setting the mount in station." Because the sky "rotates" roughly around Polaris, the northern star, the clockwork mechanism only tracks correctly when pointed at the star. The included polar finder tube helps astrophotographers get a rough orientation that will sufficiently track the camera and lenses used.
Connects to All Camera Tripods
This little mount has two connectors. One goes to the camera and the other is for the tripod. Using a 1.4″ screw, users can attach the mount to a tripod and align the mount to their liking. Also, the mount ball-head (not included) can be mounted with a 1/4″ or a 3/8″ thread.
The Mount's Story
The Omegon MiniTrack Mount was developed by a gentleman from Italy, Cristian Fattinnanzi. He developed the mount in hopes of creating a camera tracking system that is eco-friendly and fulfilled the dreams of his fellow astrophotographers. His dream can to fruition when his friend showed him a small object that would take time lapsed photos when a small camera or smartphone is mounted on it. He quickly found that the clockwork mechanism in the object was the same as the mechanism used in the self-wound kitchen timers. Once he got his hands on one of these timers, he worked to reduce small 21-tooth central gear 24 times! From there, Fattinnanzi worked to complete what would be known as the MiniTrack LX2 Mount. Omegon later took over distribution to make it accessible to a wider circle of consumers.
Features:
– This mount helps users take part in effortless and successful photography sessions of the night sky.
– Being able to work without batteries means that this mount never needs charging! This instrument works via clockwork, so it does not have power sockets or a place for batteries.
– To begin operating the mount, all observers have to do is wind-up the mount by pulling the cord.
– If astrophotographers wish to have optimal overview shots of the night sky and are using telephoto lenses up to about 300mm, then this mount is the mount to use!
– All you have to do is put the mount onto a tripod and mount a camera that weighs up to 2kg.
– Overall Size: 21 x 7.8 x 13
– Tracking: Tracks on the RA Axis
You can learn more at Omegon's MiniTrack NS LX2 Mount page.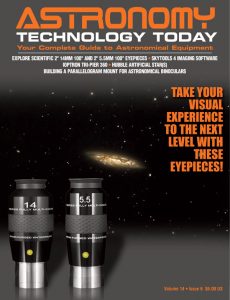 And to make it easier for you to get the most extensive telescope and amateur astronomy related news, articles and reviews that are only available in the magazine pages of Astronomy Technology Today, we are offering a 1 year subscription for only $6! Or, for an even better deal, we are offering 2 years for only $9. Click here to get these deals which only will be available for a very limited time. You can also check out a free sample issue here.