Player One Astronomy has announced the release of its latest planetary camera series, the Player One NEPTUNE 664C color camera which is the successor to the Neptune-C II, which adopted the Sony IMX464 1/1.8" format sensor.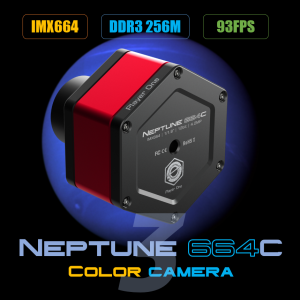 The camera utilizes the latest Sony IMX664 1/1.8" color sensor which incorporates the Sony STARVIS 2 back-illuminated pixel technology. The 2.9um pixel size accommodates a well depth of 38.5ke with a total of 4.2MP (the resolution is 2704*1540), and the diagonal is 6.46 mm.
As the Player One team notes about using the camera for solar imaging, "When taking solar photographs, the Newton ring can be annoying. A smoother solar image without Newton Rings can be taken by adjusting the NEPTUNE 664C focal plate offering a much smaller field curvature of the telescope.
The Player One NEPTUNE 664C uses Super AR Plus window glass in front of the camera which gives high transmittance from 310nm to 1100nm. With this improvement the make NEPTUNE 664C has much better performance in both Ultraviolet and NIR.
The camera can be connected to a telescope with a 1.25″ T-Mount, or by a Barlow lens between the camera and a telescope to extend the focal length. With a CS adapter and fisheye lens attached to the camera, the camera can be utilized as an all-sky camera. You can use the ST4 guide cable to connect the camera and an autoguide port of the equatorial mount to do guiding.
The NEPTUNE 664C can reach a low readout noise of 0.75e at a gain of 350 and around 0.67e at a gain of 450. It offers an HCG mode, which will automatically turn on when the camera gain setting is ≥180. The HCG mode can greatly reduce the readout noise and retain the same high dynamic range as the low gain.
The camera utilizes DDR3 cache which helps stabilize and secure data transmission, which effectively helps avoids frame dropping and greatly reduces read noise. With the DDR3 cache, the camera does not require high computing demands and still offers excellent performance even when connected to a USB 2.0 port.
The Player One NEPTUNE 664C also offers DPS (Dead Pixel Suppression) technology, where dead pixels, including hot pixels and cold pixels of the image, are swept away.
When the camera is connected to the USB3.0 interface and a full-resolution preview is used, it can reach 93 FPS in RAW8 mode (10bit ADC), and the frame rate in RAW16 mode (12bit ADC) is 46.5 frames per second. When recording images, since the actual writing speed will be affected by the writing speed of the hard disk itself, when the hard disk writing speed is slow, the recording may not reach the theoretical speed. It is recommended that using a high-quality solid-state drive to record data to give full play to the performance of the camera.
The Player One NEPTUNE 664C specifications include:
– Sensor: SONY IMX664 1/1.8″ CMOS (color)
– Diagonal: 9mm
– Total Pixels: 4.2 Mega Pixels
– Max Resolution: 2704×1540
– Pixel Size: 2.9μm
– Chip Size: 7.8mm×4.5mm
– Frame Rate: 136FPS(10bit)
– Bayer Matrix:RGGB
– Shutter: Rolling shutter
– Exposure Range: 32μs-2000s
– Readout Noise: 6.1e~0.67e
– QE Peak: ≈91%
– Full Well: 38.5k e
– ADC: 12 bit
– Data Port: USB3.0/USB2.0
– Adapter: 1.25″/M42X0.75
– Back Focal Length: 12.5mm
– Protective Window: D21*1.1MM High Quality AR Plus (Anti Reflection) Multi-Layer Coating
– Diameter: 66mm
– Weight: 180g
You can learn more about the Player One NEPTUNE 664C here.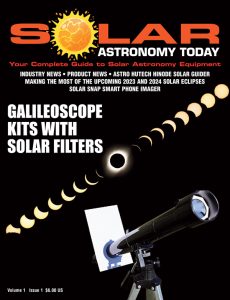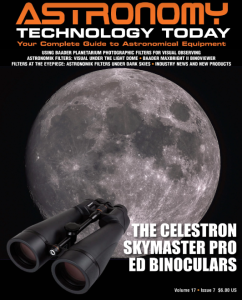 The Sun is more active than it's been in years and if that's not enough, we have the Annular Solar Eclipse on October 14, 2023 and the Total Solar Eclipse on April 8, 2024! If you'd like to learn more about the technology behind solar observing, solar imaging and more, you can check out our new monthly magazine – Solar Astronomy Today. It's free to read, no subscription needed and available here. And if you are preparing for the upcoming eclipses and want to know your equipment options from solar glasses to the most out of this world solar viewing and imaging options, check out our free publication – The Definitive Guide to Viewing and Imaging the Sun  – simply click here and enjoy reading!
And to make it easier for you to get the most extensive news, articles and reviews that are only available in the magazine pages of Astronomy Technology Today, we are offering a 1-year magazine subscription for only $6! Or, for an even better deal, we are offering 2 years for only $9. Click here to get these deals which only will be available for a very limited time. You can also check out a free sample issue here.