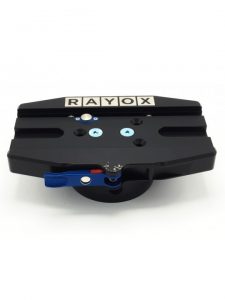 If you've been involved in amateur astronomy long enough, you've seen it happen: A telescope owner is assembling or disassembling his or her mount and telescope and thinks the scope's dovetail is secure in the mount's saddle, only to experience the horror of the scope falling to the ground, or worse, onto bare, unforgiving concrete.
The Rayox Auto-Engaging Saddle is purpose designed to prevent this inevitability – it uses a unique design that features a simple and easy-to-use cam-lever. Simply put, the Rayox Saddle is the industry's first auto-engaging saddle plate.
In this video below Woodland Hill's Daniel Mounsey "Dr. D." and Rayox's Stephen Pizzo demonstrate how just how easy and effective the Rayox saddle is in securing your telescope.
###