The Second Annual David H. Levy Arizona Dark Sky Star Party (ADSSP) event will be held on May 20th – 24th 2020, featuring the legendary Comet Discoverer David H. Levy, as well as other prominent astronomers and astrophotographers. The event is located at Arizona's Kartchner Caverns Dark Sky Park, a short 45-minute drive from Tucson International Airport. The event is sponsored by Explore Scientific who is providing thousands of dollars' worth of door prizes and attendee gifts.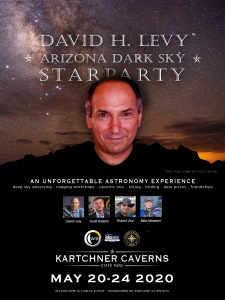 The event cost is $175US and will offer a number of activities in addition to evening viewing sessions. These include astrophotography workshops which will be conducted each day and night by a team of experienced astrophotographers including Daniel Mounsey, and Simon Tang from Woodland Hills Camera and Telescopes, Mike Weasner, and Robert and Christina Vice.
During the event, attendees will receive a can't miss inside tour of the University of Arizona's Richard F. Caris Mirror Laboratory, where a team of scientists and engineers are making giant, lightweight mirrors of unprecedented power for a new generation of optical telescopes.
These mirrors represent a radical departure from the conventional solid-glass mirrors used in the past. They have a honeycomb structure on the inside; made out of Ohara E6-type borosilicate glass that is melted, molded and spun cast into the shape of a paraboloid in a custom-designed rotating oven. Honeycomb mirrors offer the advantages of their solid counterparts – rigidity and stability – but they can be significantly larger, and dramatically lighter. (As a side note, Hubble Optics uses a similar philosophy in its line of affordable lightweight sandwich mirrors for the amateur astronomy market.
The Richard F. Caris Mirror Lab team has developed a revolutionary new method to polish the honeycomb mirrors with a deeply curved, parabolic surface that results in much shorter focal lengths than conventional mirrors that are being used around the world to unlock the secrets of the universe.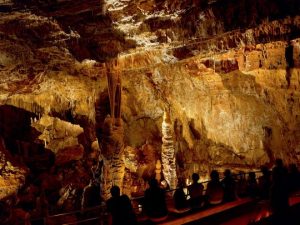 The Kartchner Caverns State Park star party host site is a wonder to itself and is the 5th International Dark Sky Park in Arizona. The facility achieved a remarkable 99% initial compliance with its Lightscape Management Plan, the result of Park-led efforts to substantially improve outdoor lighting codes at the county level and in the nearby city of Sierra Vista. Mike Weasner who promotes the many benefits of dark skies and the International Dark Sky Association will give a special presentation at this event.
Of course, attendees will have the opportunity to tour the caverns. Discovered in 1974 and kept secret to protect its amazing treasures for 14 years, Kartchner Caverns State Park was named the number one attraction in Arizona by the USA Today Reader's Choice Awards in 2017. This amazing "living" cavern system is carved out of limestone and filled with spectacular speleothems which have been growing for 50,000 years or longer, and are still growing. The Park preserves a set of 'living' limestone caverns whose known passages total 2.4 miles (3.9 km).
A complex system of air-lock doors, misting machines, and other equipment are required to properly conserve the delicate interior conditions that allow the cave to continue growing while allowing for public visitation of its chambers. The park also includes several kilometers of hiking trails outside the caverns for public use.
The venue is definitely unique and ss the organizers commented, "Some star parties boast ultra-dark skies (often very remote and isolated), while others offer astronomy in a unique setting that is closer to attractions that everyone can enjoy. We opted for very dark skies in a comfortable setting with plenty of attractions within an hour's drive (not to mention the Kartchner Caverns itself and the adjacent Coronado National Forest). Kartchner Caverns was selected as a "Silver Tier" Dark Sky Park by the International Dark Sky Association through the efforts of Robert L. Gent (1947-2019) and Mike Weasner through the IDA in 2013."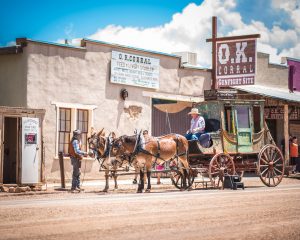 There is plenty to do away from the event site. Only 30 miles away is the historic Old West town of Tombstone with four-star hotels, colorful day and nightlife, and the infamous O.K. Corral. And the home of the historic Copper Queen Mine, Bisbee, will send you back to a time when the Old West reigned supreme offering a preserved turn-of-the-century downtown crowned by a hilltop Art Deco courthouse. Nearby Fort Hauchuca is an active military base established in 1877 as a base for American soldiers fighting the Indian Wars and was home to the Buffalo Soldiers. The Fort Huachuca Museum highlights early military history.