Everyone loves astronomy. The planets and the stars fill us with wonder and awe. But under the light-polluted skies of major cities, few people know how to connect with the night sky and explore their own universe. That's all changing with southern California's newest and only astronomy events company, SkiesAway.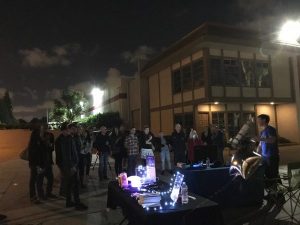 Are you looking for that something extra for your next social event, fundraiser, or birthday celebration? Perhaps you've always wanted a space themed wedding or to learn how to take images of the Moon, planets, and nebulas. SkiesAway brings the best night sky experience directly to you and your community!
Enjoy star gazing with powerful telescopes and live astroimaging, all guided by friendly and engaging night-sky tour guides who can show you the most brilliant objects in space for any given evening. Travelling to venues big and small, public and private, their portable telescopes go just about anywhere, from balconies, backyards, rooftops, and parking lots, to remote beaches, national parks, and dark sky getaways.
What could be the perfect way to end a memorable day of climbing in Joshua Tree, or a hike in Sequoia? How about adding a fresh activity to that beach house dinner party or plan a romantic evening under the stars with your own celestial guide! SkiesAway astronomy experiences are also a wonderful enhancement for corporate events and non-profit fundraisers.
With over three decades of collective experience from the consumer telescope industry, the SkiesAway team have combined their amateur astronomy, astrophotography, and event-planning skills to offer specialized experiences for the public. The team has organized and operated star parties around the world from the tops of volcanoes, in the High Sierra, to the darkest deserts, and the brightest cities.
Over the years they have also created custom telescope setups for universities, families, rock stars, and even a world-renowned physicist! Their unique blend of education and experience allows them to provide a terrific show of the night sky.
"If you have never observed Saturn, the Moon, or the Andromeda galaxy through a capable telescope, you're missing out big time!" states tour guide Jarred Donkersley. "It's an emotional experience for people to observe and connect with the night sky. Humanity grew up and developed our civilizations and culture under those stars for eons. It's where our stories and our science come from. People today have lost touch with this and we're trying to help guide them back."
With their endless joy of star gazing, the skilled event and tour guides at SkiesAway find ways to connect the groups and individuals to the sky in a fun, casual, and accessible manner, regardless of their education and experience level. Guests walk away with a new appreciation for the depth and wonder our skies have to offer and SkiesAway can't wait to share that experience with you.
SkiesAway celebrated their launch with telescope viewing and festivities at Cosmic Brewery in Torrance, CA on November 4. SkiesAway will again appear at Cosmic Brewery on January 13, 2018.
Learn more and book your guided night sky tour, star party, astrophotography workshop or customized experience today at SkiesAway.com.