The Solar Live View Imaging Software is freeware created by amateur astronomer David Scott in order to attempt to bridge the gap between viewing directly down an eyepiece and accessing the live capture view seen on screen and finally to the finished image after stacking and post-processing.
As its name implies, Solar Live View Imaging Software receives data files from your capture program, processes them in real time and allows you to apply various effects such as colorization and sharpening. In addition, it can build an animation, and all this happens automatically with very little user interaction.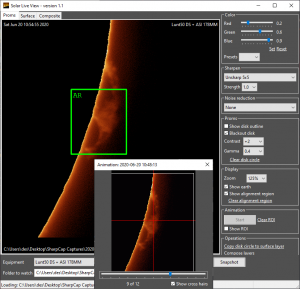 There is no installation required. Simply unzip the installation package file and drag and drop the SLV folder to a convenient place (such as your desktop). Then just run the SolarLiveView.exe program file.
Current issues known with Solar Live View Version 1:
– Can only handle static image files (but in many formats). Not avi files, yet.
– Does not handle data with surface detail well. The current version is focused on prominence exposures.
– The animated gifs that are created can sometimes be a bit blocky/low resolution.
– Need better sharpening.
David has also developed a couple of other free nifty astronomy programs including Astro Logger which he created in order to help organize astro photos. As he notes, "After about a year of doing EAA with SharpCap, I had tons of images spread across a hundred deeply nested folders and I had no idea where they were or what I had."
Astro Logger allows you to easily store your images (as well as the all the important information about how they were captured and processed), search for them, and display them. Its search function allow you see what is visible in a certain constellation, or at a particular time of year based on what you have viewed and stored in the past.
Another program is EasySpec which he created to make analysis of astronomy spectra fun and easy, hence the name. As he notes, "There are several programs already available, but as a beginner, I found them to be either too sophisticated or simple but with a less than satisfying user interface. My goal was to automate basic functions and really streamline the process of going from a raw spectra to a possible identification. I also wanted to make it easy to document, save and share your findings. I think ES does all this nicely."
You access Solar Live View Imaging Software and the other programs here.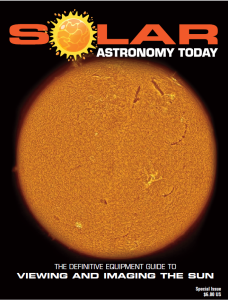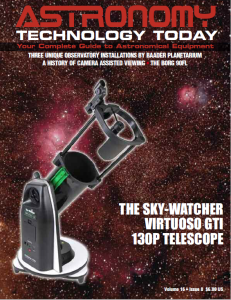 The sun is more active than its been in years! If you'd like to learn more about the technology behind solar observing, solar imaging and more, you can check out our free publication, "The Definitive Guide to Viewing and Imaging the Sun". You don't have to sign up or provide any information, simply click here and enjoy reading!
And if you want to learn more about telescopes and more products used in amateur astronomy you will enjoy the extensive news, articles and reviews that are only available in the magazine pages of Astronomy Technology Today. We are offering a 1-year magazine subscription for only $6! Or, for an even better deal, we are offering 2 years for only $9. Click here to get these deals which only will be available for a very limited time. You can also check out a free sample issue here.