Simulation Curriculum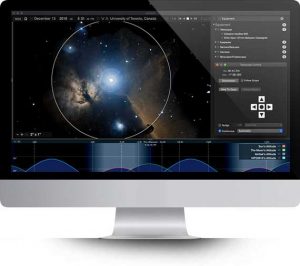 has released Starry Night 8, the latest version of its Starry Night software. In version 8 the company has released one of its most significant updates ever, with new functionality across the three available options –Pro Plus, Pro and Enthusiast. A new version 8 release of the Starry Night Complete Space & Astronomy Pack will be available soon.
Here is an overview of the highlights of the Starry Night 8 new release:
– Improved DeepSky Database
– A 36,000 object, up-to-date, cross-referenced database built from various source catalogs
– Improved Telescope Control
– Starry Night 8 supports all telescopes that are supported by Ascom. Plus, connect SkyFi 3 with Starry Night as well.
– 3D Binary Stars
– Accurate rendering of stars as 3D bodies with classification color, surface texture and relative radii.
– Data Backup and Cloud Sync
– Backup your data to secure cloud storage, sync it across Starry Night & SkySafari, and access it on LiveSky.com.
– Redesigned Interactive SkyGuide
– Web-delivered multimedia reveals the science of the solar system, stars, galaxies, and the known universe.
– High performance OpenGL graphics set the industry standard for excellence in astronomy software.
At the heart of all levels of Version 8 is a new Deep Sky Database of extended objects that makes the Starry Night experience better than ever before.  This includes:
– Incredible rendering & precise positioning of over 36,000 targets
– Carefully crafted by compiling the absolute best object data available
– The most accurate sizes & shapes of objects ever in Starry Night
– Advanced database created from 12 cross-referenced catalogs
– Huge upgrade replaces a majority of previous Starry Night catalog
– TESS (Transiting Exoplanet Survey Satellite) and Mars InSight 3D models
– Hundreds of new in-depth descriptions for the brightest stars in the sky
– New and updated mission paths for your favorite space missions
Filled with new features to make observing as interesting and efficient as possible, Starry Night 8 will meet the needs of most advanced observers and help amateurs & enthusiasts take their astronomy game to the next level. This is accomplished by:
– Open Astronomy Log standard makes data much more accessible
– Easily create multiple Observing Sites using maps & location services
– Audio Tours provide engaging, in-depth narration for many subjects
– Audio Descriptions add hours of commentary for interesting objects
– An elegant new dark theme is easier on the observer's eyes
– Redesigned SkyGuide now matches new dark theme interface
– Sky Calendar provides comprehensive list of significant sky events
Integral to Version 8 is the LiveSky Cloud. In addition to being stored on your computer, all of your observing data is optionally backed up, free of charge, to private cloud servers. The LiveSky.com Cloud isn't just about backup, however — it opens up a universe of possibilities for extending, sharing & analyzing your observing data. These include the ability to:
– Sync, share and export your data to other services with ease
– Data & assets entered at LiveSky.com sync to Starry Night
– Preparing sessions & recording observations is easier than ever
– Sync to any LiveSky-enabled astro app including SkySafari 6
All of these features are integrated in every level of Starry Night 8 with additional functionality such as telescope control offered in the Pro and Pro Plus versions. Each version also includes Starry Night Companion, a 192-page illustrated astronomy book offered in digital format and a new, comprehensive 146-page User's Guide also offered in digital format.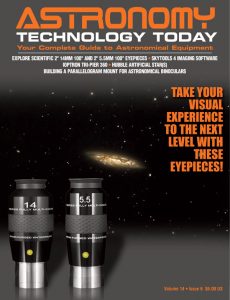 And to make it easier for you to get the most extensive telescope and amateur astronomy related news, articles and reviews that are only available in the magazine pages of Astronomy Technology Today, we are offering a 1 year subscription for only $6! Or, for an even better deal, we are offering 2 years for only $9. Click here to get these deals which only will be available for a very limited time. You can also check out a free sample issue here.