The Starships Project is an outgrowth of the positive global response to the introduction of the POD MAX observatory. SkyShed's Wayne Parker knew he was meeting a much-needed niche in the astronomy market – a true crossover product for both amateur and professional needs. He also began to notice that he was receiving a large volume of requests for help that were much more far reaching than simply ordering an observatory.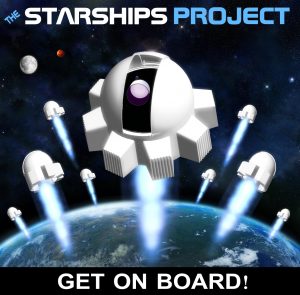 He explains, "From our research prior to creating the POD MAX, we know there was a demand for an observatory of the size and at an affordability price point as the POD MAX. As we started rolling out the observatory in production, we realized that we needed to do more to help organizations fulfill their goals with their individual observatory projects."
What he found was that there were a number of challenges facing a large cross section of those people that were reaching out to him.
As he explains, "We noticed several common problems facing organizations who wanted to establish a research grade observatory for scientific, educational and outreach efforts. The first is funding. There are a number of challenges facing educational institutions, astronomy clubs and other organizations with funding efforts. Sometimes they may have partial funding from a foundation or a benefactor but need additional funds to complete the project. Or they may be starting from scratch and don't have a system in place to get funding for the project."
He continued, "Another challenge is that often it's a single teacher or professor, or member of a club, or another individual who has been tasked with the research and implement the creation of an observatory. In the case of educators, they may have little experience in the available astronomy products and the wide range of potential functionality available. They may spend weeks or months doing basic groundwork, trying to determine how to integrate the telescope scope system in the observatory."
Another challenge was the expertise needed to meet the wide range of specific needs and goals of different organizations. As he commented, "There was no one size fits all when it comes to outfitting an observatory. The variety of options and opportunities could be overwhelming to the people who are tasked to put together what was basically a one-off project."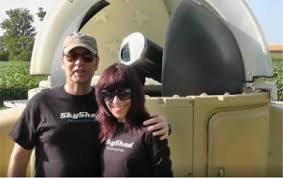 As he reached out and discussed these challenges within the industry and with the growing number of organizations interested in creating an observatory project, he became aware of the success of crowdfunding as an option to fund these projects.
As he notes, "We went to the crowd funding people like Kickstarter and Rally to find out if they could "umbrella" a large group of educational organizations, astronomy clubs and others into a massive crowd funding project. The answer was that they couldn't support the kind of features we needed to truly be successful with the funding campaigns needed. Their advice to us was to create our own crowd funding site."
Creating an entirely new fundraising endeavor as part of The Starships Project to benefit organizations outside of his normal business operations was obviously daunting and an effort not to be taken lightly. Wayne started by creating package options that could fit under a realistic fundraising umbrella and reached out to a diverse group of companies including Celestron, Software Bisque, PlaneWave, SBIG, Mallincam, Moonlight Telescope Accessories, Astro Tech, Kendrick Astro and others to get their input and help create truly integrated system packages, which could come together quickly to create the solutions needed for any given project.
"It was important that we reach out to a wide variety of people and companies within the industry," said Wayne. "We wanted it to be abundantly clear that the project we were undertaking is an industry wide effort. The current systems and options we have created have been well received and we are interested in expanding these industry relationships, so that we can truly meet any and all needs when it comes to helping organizations meet their specific goals, no matter how divergent those may be. We welcome anyone in the industry who we haven't had the opportunity to work with to reach out to us"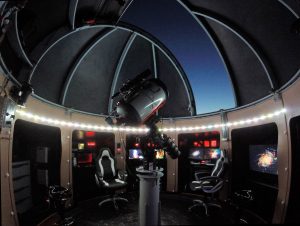 Armed with the knowledge and support of many in the astronomy products industry, Wayne turned to the challenge of creating a crowdfunding website and infrastructure. As he notes, "We were starting from scratch, creating something far beyond our area of expertise, and it was a grueling process. There is so much to the backend systems it sometimes became overwhelming. It was a process that took much longer than we had hoped and now as we are on the cusp of our official launch, it has definitely been worth all of the personal financial cost and time to undertake."
The result of these efforts is The Starships Project (THESP), a funding program for educational and astronomy / science / tech outreach organizations, who dream of owning a research grade observatory but lack sufficient funding and expertise to achieve their goal.
The crowdfunding site provides the ability for organizations to reach out together to a wide variety of people and organizations to fund their project. Unlike other funding programs, a campaign is not limited to 30-90 days and instead is "open ended." Depending on the funds required for the project (up to $300,000 U.S. allowed) it may take longer than a few weeks to raise the funds needed. Organizations can begin with a target of 6 months and extend that until they have the funds needed.
As Wayne notes, "Another benefit to The Starships Project that is different than other crowdfunding sites, is that the campaigns are "never ending," meaning that even when a project/campaign has reached its funding goal, we can keep the campaign going in perpetuity, to raise a small amount of yearly contributions to maintain the observatory, update equipment, update the software, pay for ongoing costs and more."
Wayne continued, "The beauty of using a custom crowd funding platform is that we at SkyShed as a company are no longer working one-on-one with a teacher or professor or a club member. Now we're opening up the project to a worldwide audience. By including students, club members, fellow astronomers, alumni, etc., we're creating an "army" who can promote project/campaigns. In addition, we are working to establish partnerships with partners like NASA, SpaceX, Virgin Galactic, Microsoft, Boeing, CSA, and ESA in funding. This way, we will have a better chance to create hundreds of research-grade "Starships."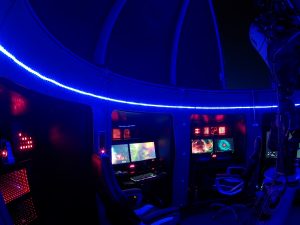 He also admits that the word "starship" was used on purpose. As he says, "We find that antiquated words like conservatory, laboratory, observatory, sound foreign or somehow "elite" to many people. But say "Starships," and people's face lights up. They totally get it. Especially kids. Besides, like unicorns, starships don't actually exist. Since it is popular these days to use words for other than their original purpose, we figure we have as much right to use the term as anyone!"
Any organization interested in creating a funding program simply needs to go to The Starships Project website at www.starshipsproject.com, go to the "Apply" tab and follow the instructions to get started.
Helping out a project is even simpler. Just go to the website and look through the listed projects and choose one. Like other crowdfunding sites, each project has a number of donation opportunities, most starting at as low as $10.
"In the end," says Wayne, "We want as many people as possible to enjoy the hands-on experience through the depth of technology the astronomy products industry has to offer. From the visual experience at the eyepiece, to viewing incredible images on an oversized screen, to actually participating in real science through any number of opportunities opened through these observatory projects – the payoff is beyond anything we can truly measure."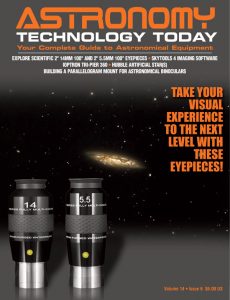 And to make it easier for you to get the most extensive telescope and amateur astronomy related news, articles and reviews that are only available in the magazine pages of Astronomy Technology Today, we are offering a 1 year subscription for only $6! Or, for an even better deal, we are offering 2 years for only $9. Click here to get these deals which only will be available for a very limited time. You can also check out a free sample issue here.