When Steve Layman was in high school, his passions were astronomy and music. He didn't have a lot of money, so he had a choice: buy a good telescope or buy an amplifier for his guitar.
"I went with the amplifier," he said. "I was in a rock band."
The decision paid off. Layman went on to a career in music, as a teacher at Western Albemarle High School, as the band director there, as the symphonic band director for five years at the University of Virginia, as an adjunct music teacher at Piedmont Virginia Community College, and, currently, as the music director for the Charlottesville Municipal Band.
Still, his interest in astronomy never waned. When Layman turned 40 (he's now 65), he finally bought a good telescope as a birthday present to himself, and that eventually led to a now-10-year involvement with UVA's astronomy department and a long-time membership in the Charlottesville Astronomical Society.
In conjunction with astronomy professor Ed Murphy, director of the astronomy department's public outreach program, Layman runs UVA's telescope loaner program, which provides some pretty nice 'scopes to teachers and their students around Virginia throughout the school year. In the summers, educational groups like the Scouts also can borrow astronomical equipment for star parties and merit badge learning.
"I love observing the night sky and showing it off to folks," Layman said. "Astronomy is something fun to wrap your mind around. So many people find the solar system and the universe fascinating. You get a sense of how large things are, that the light you are looking at tonight left a galaxy millions of years ago and is just now reaching your eye."
He calls astronomy "a living, breathing science" that has been carried forth through the development of civilization.
"There are things we know about the universe that we learned thousands of years ago, and new things we are discovering every day," he said.
The telescope loaner program, called CLUSTER (for Chandra Loans UVA's Telescopes to Educators) began with an education grant from NASA's Chandra X-Ray Observatory. It is now run with financial support from the Friends of the McCormick Observatory, a group of amateur astronomers and enthusiasts who volunteer time and resources during public observing nights (the first and third Fridays of every month) at UVA's historic observatory. Members of the Charlottesville Astronomical Society also volunteer during events.
Astronomy is sometimes described as a "gateway science," a means of attracting students broadly to the sciences by presenting the fascinations of the universe through direct observation. Layman said the CLUSTER program is a way to help teachers "open doors to science" for their students.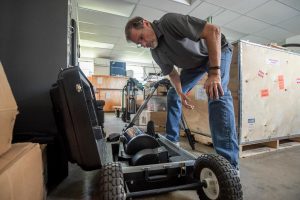 Through the program, nine years in operation now, teachers can borrow a kit that includes a Meade 8-inch diameter Schmidt-Cassegrain telescope, a sturdy tripod, several eyepieces (including a filter for viewing the sun), a green laser for pointing out star locations, a planisphere (star chart) and a star atlas – all for just $50 for three months, the length of a semester. Dozens of teachers around the state, particularly in Charlottesville, Albemarle County and in Northern Virginia, have taken advantage of the opportunity to let their students explore the night sky. Layman and others also provide training in the use of the sophisticated equipment.
"By looking through a lens and directly observing the moon and planets in detail, students get a strong realization that what we talk about in class is real, and not just pictures in a book or online," said Jeff Matriccino, a sixth-grade science teacher at Sutherland Middle School in Albemarle County who previously taught science at Hollymead Elementary School. Matriccino has used UVA loaner telescopes at both schools over the last half-dozen years.
He said the students enjoy being outside at night, learning beyond the boundaries of their classrooms about the universe beyond the bounds of Earth.
"The telescopes help science come alive for my students," said Lisa Coughlin, an Earth and space science teacher at T.C. Williams High School in Alexandria. She has participated in CLUSTER for the full length of the program. "Steve [Layman] has done a wonderful job supporting all of us teachers who have participated throughout the years. The excitement and enthusiasm I see in my students during and after each star party makes me continue to participate in this program year after year."
Matriccino sees the same enthusiasm during star parties at his school.
"The kids are fascinated when they see the moon's craters or the rings of Saturn in color with their own eyes." he said. "The parents who come to our viewing events also enjoy the experience. I tell my students that when humans go to Mars in 20 or so years, that it will be their generation doing it, whether as astronauts or the engineers who will put them in space. I want them to know that they can develop the skills to do that."
This article originally appeared on the UVA Today website. Its author is Fariss Samarrai – UVA University News Associate.