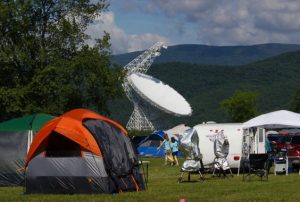 The Central Appalachian Astronomy Club of West Virginia will again host the Green Bank Star Quest on June 26th – June 29th, 2019. The event is held at the Green Bank Observatory located in Green Bank, West Virginia.
The Star Quest is the nation's largest amateur event combining optical and radio astronomy. Hundreds of people from across the globe attend the four-day star party and conference. A registration fee of $100 covers all four days of Star Quest activities.
A unique aspect of the Star Quest is an opportunity hosted by the Green Bank Observatory which provides free specialized classes and the use of the 40-foot  radio telescope to a limited number of Star Quest registrants. This activity is provided on a first-come first-serve basis.  Attendees will be placed in teams, receive classroom instruction on objects to be observed and then will do actual observing with the facility's 40-foot radio telescope. Each team will collect real data that can be analyzed.
In additional to daily presentations, the event offers a distinguished speaker series. Each night will offer presentations that include:
– "Asteroids: Their Discovery, Composition, and Observation" " presented by Terry Trees: Chairman, Mid-East Regional Astronomical League.
– "Apollo Landing Sites and Their Stories" presented by Terry Mann: Vice-President of the Ohio Chapter of the International Dark-Sky Association; Chair of the Great Lakes Region of the Astronomical League; Astro Imager; Aurora Chaser.
– "Lunar Exploration in Today's World: The Legacy of Apollo" presented by G. Wesley Patterson: Planetary Exploration Group (SRE), Space Exploration Sector (SES), Johns Hopkins University Applied Physics Laboratory.
– "The Once and Future Moon" presented by Shane Larson: Research Associate Professor KF7W0Z, Associate Director, CIERA (Northwestern University Center for Interdisciplinary Exploration and Research in Astrophysics); Fellow, American Physical Society.
Nestled in the mountain ranges and farmland of West Virginia, within the National Quiet Zone, radio astronomers at the Green Bank Observatory listening to the remote whispers of the universe, in order to discover answers to the most astounding astronomical questions.
Specifically, the Green Bank Observatory:
– provides state-of-the-art telescopes, instrumentation and expertise
– trains the next generation of scientists, engineers, and technicians;
– promotes science, technology and engineering to foster a more scientifically literate society;
– provides the tools and facilities to advance science and technology nationally and internationally.
Green Bank Observatory telescopes range in diameter from 40 feet – 330 feet (12 – 100 meters) including is the largest fully-steerable telescope in the world.